MTN Spray Paint
Montana Spray Paint, or MTN as it's otherwise known, has been used by Graffiti Artists for nearly a quarter of a century. First released back in 1994, the low chemical composition paint mixes offered a healthy and environmentally friendly alternative, which revolutionised the aerosol spray can market.
Click Here For Montona Spray Paint, Colours, Prices, Buying Options & Availability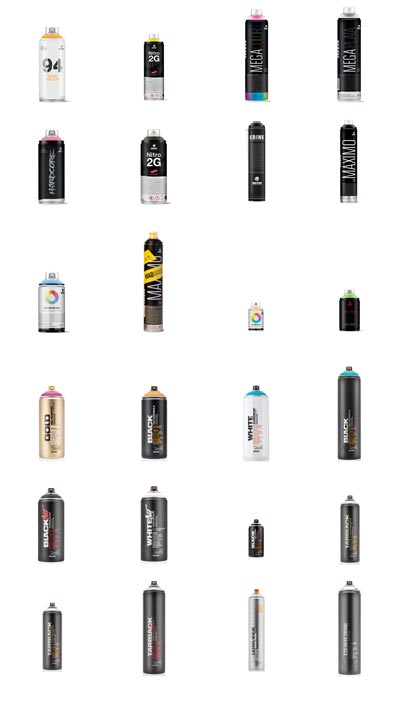 MTN 94
Released in 2009, MTN 94 is the result of countless hours of research and collaboration with artists across the globe. The paint was named after MTN's founding year 1994.
MTN 94 boasts swift drying time, precision control with alternative pressures, low pressure and a high-quality matte finish.
available in 147 different colours, 114 of which are unique to the 94 range
MTN 94 Transparent
The transparent version of the popular MTN 94 spray paint for gradients and shadings is nine colours.
MTN Alien
MTN Alien is the first Montana Spray Paint developed for the street artist; this low pressure can have an accurate control valve with a satin finish
Available in 23 colours in 250ml cans
MTN Classic
The original MTN paint, which was released in 1994 a high pressure can with a male valve and gloss finish
31 colours available in 200ml cans
MTN Hardcore
The favourite MTN Hardcore has been around since the company's birth and was MTN's first paint aimed at the graffiti artist with a gloss finish, brilliant opacity and brightness in a high pressure can.
Hardcore is an all-weather paint that can be used in sweltering and cold conditions.
One hundred nine colours are available in 400ml cans skinny cap provided.
MTN Krink K750
MTN created the K750 with New York paint firm Krink
Krink is the perfect paint for hard to reach places. The unique valve, paint composition, and straw enable a reach of 2 meters plus.
Available in Matt Black or White in 750ml cans.
MTN Maximo
Maximo is a no-nonsense high pressure, gloss paint that will cover a large area per can.
Available in Black, Chrome and White.
MTN Mega Colours
Mega Colours is a speed demon! That's been developed for fast flow, fast drying, speed and accuracy.
High pressure can with a gloss finish.
Fifteen bright colours available in 600ml cans come with a fat cap.
MTN Mega Plata
Mega Plata Chrome paint can be used in the most horrendous conditions with the high-pressure output and ultra-fast drying time.
Gloss finish in 600ml cans can be combined with all other MTN paints.
MTN Micro
If you want a discreet can that fits in your pocket, then look no further than MTN Micro! Unfortunately, you probably can't find a smaller can.
Available in Black in tiny 30ml cans
MTN Nitro 2G
The Nitro 2G has been developed to go over the top of gold silver and chrome metallic paints without worrying about contamination, a fast-drying low-pressure paint with a Matt finish.
Ten colours are available in 500ml cans, supplied with a fat pink cap.
MTN Nitro 2G Black
Black paint as above but in 400ml cans and supplied with outline cap.
MTN Pocket Spray Paint
Now there's no excuse; you can carry a can with you all the time with MTN's pocket spray Black, Chrome, Electric Blue, Light Red, Light Yellow and White in a convenient pocket-sized 150ml cans.
High-Pressure cans with a Matt finish and pocket cap.
MTN Speed
A high-pressure fast output Matt paint for situations that require speed
25 colours available in 400ml cans supplied with fat cap
MTN Water-based
MTN Water Based is a low pressure, low odour water based paint suitable for indoor and outdoor use.
Water-soluble when wet but water-resistant when dry with a special anti-clog valve.
Available in 52 colours 100ml or 300ml cans
Montana Cans
Montana Cans have painted for every Urban painting situation. Unlike some other spray cans on the market, Montana Paint has been developed by Street Artists and writers for Street Artists and writers with deliberate features like fast drying times and generous coverage. Montana also uses their own unique colour table instead of the bog-standard RAL colours used by other paint manufacturers.
Montana Black
Montana Black is the flagship spray paint from Montana Cans, do not be mistaken into thinking that this is a black paint there are 187 colours available in the range (including Black)
This popular paint has been based on a nitro combination formula ensuring low odour with speedy-drying times and a Matt finish. In addition, a high-pressure valve provides accurate control and a fast application (if desired) and is an all-weather paint that can even be used in the freezing depths of winter.
Available in sizes 50ml, 150ml, 400ml and 600ml
Montana Blackout Tar black
Blackout is a nitro combination tar mix that gives a dense Matt black finish with the advantage of fast drying times (unlike other tar paints on the market)
It is supplied with a fat cap, available in 400ml, 500ml and 600ml cans.
Montana Black Outline Silver
The famous Montana Black in Silver! minimal dust in 400ml cans
Montana Black Spider Spray Paint
High pressure can create special spider web effects in Black or silver, great for those who want uniqueness in their pieces.
Available in 150ml cans.
Montana Whiteout
Ever seen a white sticker? Whiteout provides a white 'sticker' type finish when dry.
A matte finish white specialist graffiti paint designed for highlighting, filling and outlining. Fast output with a high-pressure valve system and good handling.
Whiteout's supplied in 400ml cans.
Montana Black Pocket Spray
Montana Black in a small, easily concealable can that will feat neatly in your pocket.
Available in colours Black, Code Red, Irish Green, Light Blue, Silver chrome and White.
150ml Cans
Montana Gold
Montana Gold is a low-pressure Acrylic Lacquer designed especially for Street Artists for creating high-end art.
Accurate spray, high coverage and accurate control can be used on many different surfaces and will not split even on flexible surfaces!
Montana Gold's supplied in 400ml cans with 215 colours to choose from including, Blast Orange, Brimstone, Everglade, Pepperoni Hot, Yellow Submarine and more standard colours like Yellow, Cyan and Magenta.
Montana Nightglow
Montana Nightglow is a luminescent green glow in the dark paint. The specially pigmented paint stores light then glows in the dark, best used in areas with little to no light.
The glow intensity depends on the thickness of paint and length of light charge, Montana recommend priming with White and sealed with a gloss varnish on top for the best effect.
Suitable for most surfaces, supplied in 400ml cans.
Montana Silver Chrome
Montana's Silver Chrome paint with constant pressure gives a fast, high covering Silver winterproof finish.
Dry silver chrome will accept Montana Black and Gold on top.
Silver Chrome is supplied with fat cap in 600ml cans.
Montana Tarblack
The original Tarblack paint has had a makeover, redesigned in a low pressure can that allows use in skinny or fat mode (all the 1-5 caps). This bitumen based paint is 100% winterproof.
Available in 500 0r 600ml cans supplied with wide pink dot cap.
Montana Ultrawide
Ultrawide and ultra-high spray designed for Calligraphy and Ultrawide lines. The specially developed cap allows lines from 15-60cm wide (dependant on distance from wall) and enables an extra 2m line-height from the artist if required.
Available in colours Shock Black, Silverchrome, Ultra Blue and Ultra Red.
Supplied in 750ml cans.
Montana White
Montana's budget range Montana White is a durable, all-weather, gloss finish paint with a fast drying time.
Available in 51 different colours.
Montana White is supplied in 400ml high-pressure cans.
Click Here For Montona Spray Paint, Colours, Prices, Buying Options & Availability