Dope is a Polish firm specialising in graffiti spray cans and markers. The marker range includes ink, paint, empties and refills.
Click Here For Dope Markers Colours, Prices, Buying Options & Availability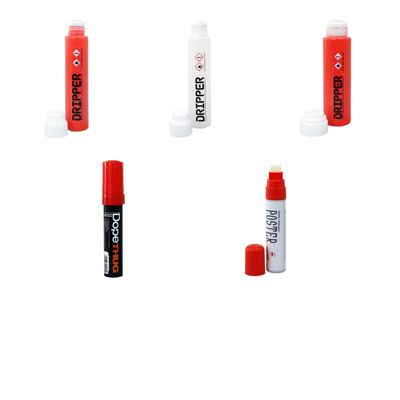 Dope Dripper Marker
Dope Dripper Markers are filled with 'drippy' hard to buff, permanent, alcohol-based paint that is weather resistant and suitable for pretty much all surfaces.
The squeezy body ensures accurate control of the paint through the mop type tips. Available with 10mm tip and 30ml of colour or 18mm information and 50ml of paint
11 colours in the range with Black, Brown, Chrome, Dark Blue, Fluo Pink, Green, Light Blue, Orange, Red, Yellow and Turquoise.
Empty Dope Dripper Marker
Empty Dope Drippers that can be filled with your preferred ink or paint
Available with 10mm tip and a 30ml capacity or 18mm tip and a 50ml capacity
Dope Poster Marker
Dope Poster is loaded with acrylic based paint that is sunlight resistant and waterproof once dry.
Can be used on most surfaces and can be refilled.
Available in tip sizes
Round 1mm, 2mm, 4-6mm
Chisel 6mm
Flat 15mm, 30mm, 50mm
Available in over 50 colours
Dope Thug Marker
Dope Thug Markers are filled with alcohol-based, permanent ink.
Supplied with a 12mm chisel tip, the body is refillable
Available in colours Black, Blue, Red and Violet
Click Here For Dope Markers Colours, Prices, Buying Options & Availability