Founded in Poland 2009 Dope's mission is to "bomb the world" with their fine selection of paints, markers and inks. A small range of spray cans in a wide range of colours to cover any situation.
Dope Cans Include
Please Follow Links To View Cans
Dope Supreme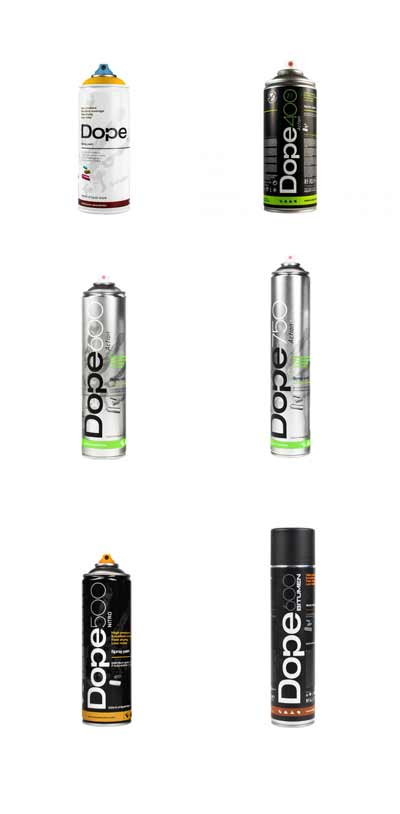 Dope Classic Spray Paint
Full Matt acrylic paint, low-pressure paint which is quiet and quick-drying. Made from high-quality ingredients this all-weather paint is excellent for covering large areas. Contains lots of pigment making it suitable for covering any surface.
400ml low-pressure cans for exceptional control and quiet delivery supplied with a skinny cap which can be swapped with a fat cap if required. Can is compatible with most other makes of cap on the market.
Available in 62 different colours
Dope Action Spray Paint
Dope Action is a paint designed to cover large areas in the shortest possible time. Fast drying with high pressure, combined with the supplied Pink Fat Cap, can generate a very thick line. No mixing ball for a quiet paint job.
Available in 2 metallic colours and two matt colours including Black, White and Chrome 400ml, 600ml and 750ml cans.
Dope Nitro Spray Paint
Dope Nitro is a dull matt, quick-drying paint, the regulated valve combined with high-pressure allows you to cover both small and large areas in a short space of time. Suitable in conjunction with chrome supplied with a skinny cap the fitting is compatible with most other caps on the UK market.
Available in 6 colours and in 500ml cans
Dope Bitumen Spray Paint
A black bitumen based spray can. Designed for covering large areas swiftly. Fast drying and suitable to use with chrome.
High-pressure 600ml can supplied with a pink dot fat cap
Dope Supreme Spray Paint
The finest paint in Dope's range, a special formula containing a modified synthetic resin and high-quality pigments with exceptional UV resistance.
A quick-drying gloss finish with high opacity. Modulated pressure can (use skinny cap for low pressure and fat cap for high) supplied with a skinny fat cap available in 61 different colours.
All dope paints are available in multi-packs
Click Here For Dope Spray Paints, Colours, Prices, Buying Options & Availability