Monster Colors is a Scottish company that makes specialist spray cans popular with Graffiti artists. Monster is the ideal choice if you want to work with a true UK made spray can.
It's not just artists some Monster Colors paint is suitable for a wide range of home, DIY, industrial and even automotive purposes.
Monster spray paints fall into four different categories. Each has a range of colours and finishes ensuring you'll find the ideal cans for your specific situation.
Monster Colors Spray Paint Includes
(Please Follow Links to View Spray Cans)
Masonry Spray Paint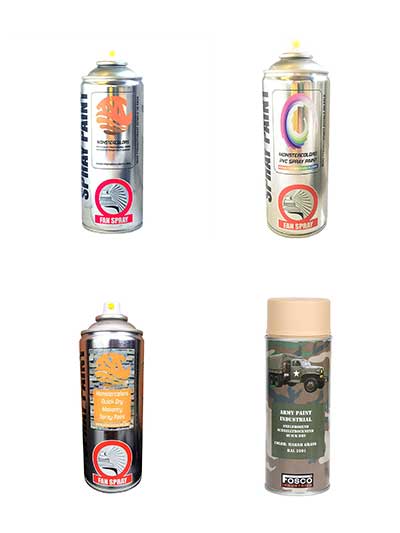 Premiere Spray Paint
Monster Paint is ideal for covering surfaces of any material indoors and out. The high pigmentation paint is good at withstanding day to day wear and tear, the elements and UV rays.
Matt, Gloss & Satin
Monster Paint's available in matt, gloss or satin with sheen levels of 10,70 and 40% respectively. 64 colours are available.
Diamond Shine Laquer
Diamond shine lacquer's available in Matt, Gloss and Satin to use with Monster Paint, giving your work a professional-looking non-yellowing finish. Supplied with a fan nozzle.
Enamel
Monster Enamel spray paint provides a high sheen level of 90%. Available in standard enamel in 64 colours or pearlescent enamel in 13 colours.
600ml
A giant spray can choose two colours, Traffic Black or Chrome Silver.
Black Bitumen Coversall
A heavy-duty black bitumen spray forms thick water, weather and corrosion-proof coating. Suitable for a range of uses including home, automotive, marine and industrial applications.
Masonry
A masonry specific spray paint with a 90% sheen. Ideal for outdoor street art. 64 colours available.
Wood Gloss Varnish
If you use Monster paint on wood, be sure to topcoat with this wood varnish that'll protect the coating.
Fluorescent Paint
Six fluorescent colours in a 400ml spray can. Finish with a clear lacquer for a glossier finish.
Compare Monster Colors Spray Paint
| | | |
| --- | --- | --- |
| Monster Paint Type | Colours  | Sheen Level |
| Matt | 64 | 10% |
| Gloss | 64 | 70% |
| Satin | 64 | 40% |
| Enamel | 64 | 90% |
| Pearlescent Enamel | 13 | 90% |
| 600ml | 2 | n/a |
| Black Bitumen | 1 | n/a |
| Masonry | 64 | 90% |
| Fluorescent | 6 | n/a |
| PVC Matt | 44 | 10% |
| PVC Gloss | 44 | 70% |
| Pearlescent PVC | 13 | 70% |
| Masonry | 64 | 90% |
PVC Paint
Specially formulated for covering plastic will also work in many other flexible surfaces. The acrylic formula allows for high excellent adhesion and high flexibility eliminating cracking.
Use on plastic boards, models, garden furniture, PVC windows, and doors. Also suitable for some industrial and automotive applications.
PVC Preparatory Cleaner
Before you spray on any plastic, make sure the surfaces clean by applying the PVC cleaner first. This will remove all oil, grease, dirt and any other unwanted substances that'll prevent a clean application of spray paint.
PVC Spray Paint Matt & Gloss
Monster colours PVC spray paint's available in Matt or Gloss. Matt has a 10% sheen level while the Gloss has 70%. Both have 44 colours available in 400ml spray cans.
PVC Laquer
Matt and Gloss clear coat lacquer to be used in conjunction with the PVC spray paint. Creates a hard-wearing protective topcoat on your painted PVC or plastic.
Pearlescent PVC Paint
Pearlescent metallic PVC paint with a 70% sheen level. Thirteen colours are available.
Military Paint
A range of single coat industrial standard spray paints offer brilliant weather resistance. The paint cures very quickly and is highly resistant to water on application.
Therefore the paint can be used outside in unfavourable weather conditions leaving an anti-corrosive coating. Can even be sprayed directly on bare metal. For extra protection, add lacquer top coat.
400ml Cans
Gloss Or Matt
Fan Spray Cap Actuator
48 Military Colours Available
Click Here For Monster Colours Spray Paint Prices & Availability