MTN Markers are specially designed for street work. The Ink and Paint markers have found favour among many urban artists across Europe.
Please Follow Links To View Markers
MTN Paint Markers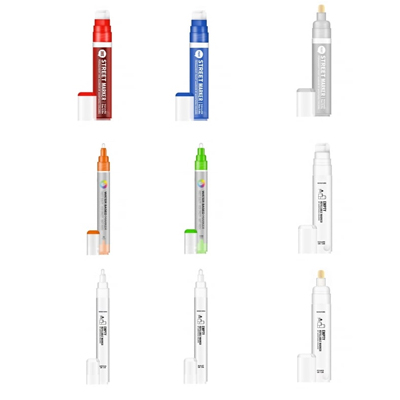 MTN 94 Paint Marker
MTN 94 paint markers contain opaque, hard to buff enamel paint which is alcohol-based with good UV resistance and is of course permanent.
Supplied with a 15mm tip the body can be refilled and features a 'coin slot' for easy unscrewing and filling.
Available in 16 gloss colours which include two metallic colours and four fluorescent colours.
MTN Street Ink Marker
Street Markers have a transparent body and hard polyester 15mm tips (except black and silver which have 8mm tips)
Loaded with alcohol-based ink which flows freely with high opacity and durability.
Available in 12 colours
MTN Street Paint Marker 15mm
This marker has a hard round tip constructed from polyester fibres making this a great pen for tagging and calligraphy.
Features the MTN valve system which allows accurate paint flow. Filled with alcohol-based paint with good opacity and abrasion resistance.
Available in 12 different colours which include metallic chrome and gold
MTN Street Paint Marker 8mm
Same as above but with 8mm hard round tip, available in colours Black or Silver Chrome.
MTN Water-Based Paint Markers 5mm & 3mm
Filled with Montana Water Based Paint which is suitable for most surfaces, the tips are round and constructed from polyester fibres.
Available with 3mm or 5mm tips
18 different colours available
MTN Empty Markers 3mm, 5mm, 8mm & 15mm
Empty MTN markers ideal for filling with your favourite paints and inks, clear bodied with hard round polyester tips.
Available in tip sizes 3mm, 5mm, 8mm, and 15mm
Click Here For Montana Markers Colours, Prices, Buying Options & Availability