Clash is a 100% Italian-made spray paint featuring a valve system that works fine, detailing high coverage.
Clash works well in all weathers with high opacity, the paints suitable for use in conjunction with chrome even when wet.
An all-weather paint that works on most surfaces and an excellent all-round spray can. A range of caps is available to use in conjunction with medium-pressure cans.
Click Here For Clash Spray Paint, Colours, Prices, Buying Options & Availability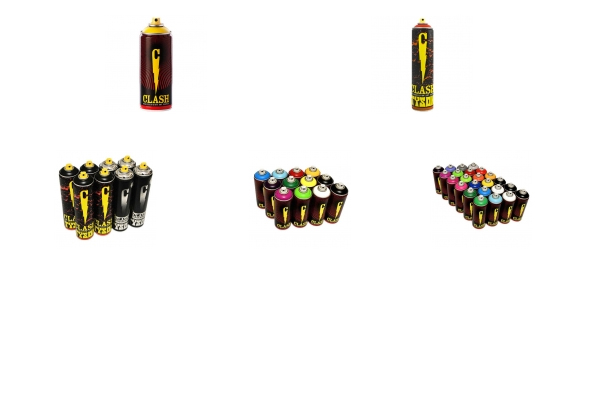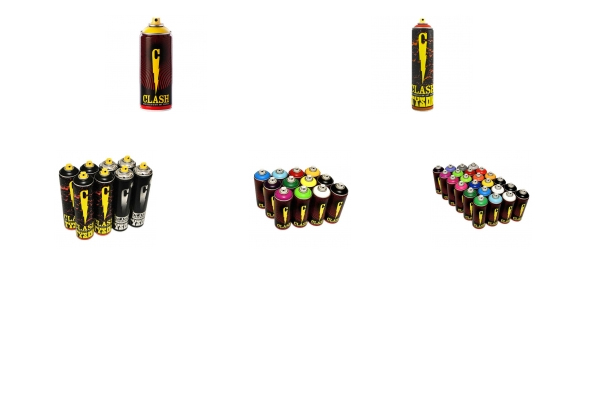 Clash Spray Paint
Clash is Italy's first independent graffiti spray paint and offers a satin finish with good UV and weather resistance.
130 colours available in 400ml cans
Clash Mini
Clash spray paint in a compact 125ml can, ideal for storing in your pocket and stealth tagging, supplied with Milano skinny cap.
Available in white, red, yellow and black.
Clash Titan Spray Paint
Heavy-duty high-pressure spray paint in 600ml cans
Available in 8 colours, including Black Clash and Silver Bling supplied with clash yellow fat cap
Clash Fluo
A range of highly pigmented fluorescent colours with excellent UV and weather resistance for a long-lasting finish, superior to many other fluo spray paints on the market.
Available in fluorescent colours fuchsia, green, red and yellow.
Clash Paint's also available in bulk packs
Clash Caps
Clash Caps include
Super Skinny – The thinnest line in the cap range. 2-10mm
Banana Skinny Yellow – Use for fine lines and precision spraying.10-20mm
Skinny Pro – Produces round soft lines of 12-22mm
Soft Milano – A medium cap ideal for filling. Lines of 14-24mm
Pink Fat – For filling large areas. 24-48mm
Super Fat – Ideal for use in conjunction with large high-pressure cans for fast filling. 30-60mm
Yellow Fat – The best all-round fat cap capable of producing flared lines. 30-70mm
Astro Fat – The most potent fat cap with a high flow rate. 40-80mm
Transversal – The calligraphy cap. 15-80mm
Needle – Ideal for jet tags. 15-30mm
Click Here For Clash Spray Paint, Colours, Prices, Buying Options & Availability