Rustoleum Spray Paint is a paint and primer in one, the worlds first anti-rust paint that's been protecting surfaces for a century.
Rustoleum is ideal for urban art projects involving metal surfaces, DIY, automotive and Industrial purposes. Whatever surface you need to spray paint you'll find a Rustoleum solution.
Click Here For Rustoleum Spray Paint Prices & Availability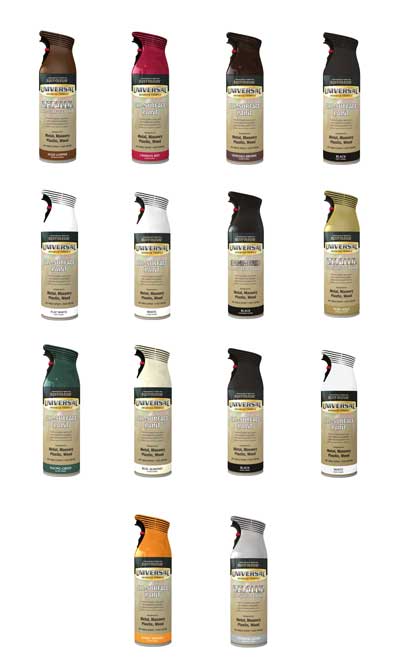 What Rustoleum Spray Paint Do You Need?
You can determine the best Rustoleum Spray paint for your project using the table below.
| | |
| --- | --- |
| Surface | Suitable Rustoleum Spray Paint |
| Aluminium | Leak Seal |
| Ceramic | Designer Metallic Spray or Ultra Cover High Gloss |
| Concrete | Leak Seal, Rust Reformer or Marking Spray |
| Glass | Stone Spray Paint, Peel Coat, Chalkboard Spray |
| Masonry | Stone Spray Paint  Designer Metallic Spray, Leak Seal, Glow In The Dark Spray |
| Metal | Automotive Touch Up |
| Plaster | Stone Spray, Designer Metallic Spray, Glow In The Dark |
| Plastic | Fabric & Vinyl, Peel Coat, Metallic, Ultra Cover High Gloss |
| PVC | Fabric & Vinyl, Leak Seal |
| Wood | Acrylic Enamel, Stone Spray, Automotive Enamel, Designer Metallic, Leak Seal, High Cover Gloss, Glow In The Dark |
2x Ultra Cover High Gloss
A specialised double coating Gloss spray which allows double speed spraying and coating. Fast-drying paint delivered with 'any-angle' spray system.
Acrylic Enamel
Acrylic Enamel is suitable for metal, wood and plastic, providing a fast-drying smooth finish.
10 colours available
Gloss, semi-Gloss, slat and metallic finishes
Automotive Enamel
Vibrant Enamel colours delivered with an extra-wide spray fan. UV and weather-resistant, suitable for indoor and outdoor use.
5 Colours available
Gloss, semi-gloss or flat finish
Automotive Touch Up
Automotive spray for touching up cars removing minor scratches. Wide-angle spray with a smooth finish.
Chalkboard Spray
Turns most surfaces into a writable chalkboard or use as a unique texture for artwork. For indoor use only.
Available in black and white
Designer Metallic Spray Paint
A craft/furniture spray for adding a metallic finish and sheen. Suitable for indoor and outdoor use.
Available in colours classic bronze, aged bronze, aged brass and nickel
Fabric & Vinyl
Restoration spray for fabric and vinyl providing a durable, flexible protective coating.
Glow In The Dark
Luminous Glow in the dark spray paint. Coat surfaces indoors or out. Once dry charge with light and the paint will glow for up to 8 hours.
Available in a single colour
Leak Seal
A rubber coating spray for sealing holes in a wide variety of surfaces. Once filled Leak Seal is paintable.
Marking Spray
Marking spray for use on a variety of surfaces. Good weather resistance.
Available in 1 colour – Orange
Metallic Spray Paint
Metallic primer and paint in a single can with Rustoleum trigger technology for a fast and efficient application. . One coat required for a flexible chip-resistant finish.
Peel Coat
A peelable rubber spray coating will adhere to most surfaces such as metal, plastic and glass. Once covered, the surface is protected from the elements until you peel it off.
Rust Reformer
Spray onto a rusted metal surface to transform it into a non-rusting, corrosion-resistant surface. Use indoors and out.
Stone Spray Paint
Adds a stone effect with a single spray making surfaces look like real stonework. Indoor use only.
9 Stone effects available