Uni Markers are built to write on any surface, leaving a vibrant finish that's waterproof and won't run. A robust and reliable pen favoured by graffiti artists, industrialists and professionals of various sectors.
Please Follow Links To View Markers
Uni Marker Sets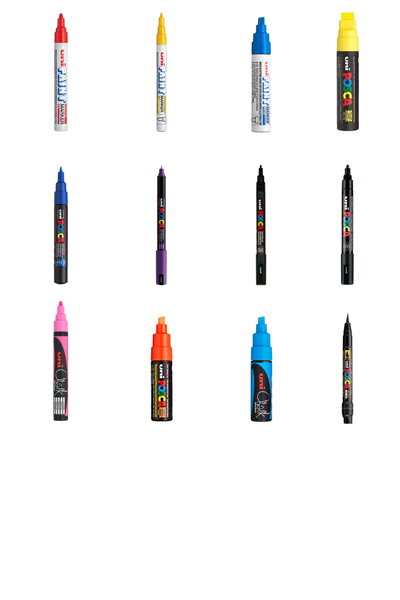 Uni Paint Markers
Uni Paint markers are filled with oil-based paint created to write on virtually any surface, once dry the paint is 100% waterproof. A favourite marker with urban artists.
It is available in tip sizes broad chisel 8mm, bullet tip 2.2-2.8mm, fine bullet tip 0.8-1.2mm and the extra-fine tip of 0.8mm.
Available in colours Black, Blue, Green, Gold, Red, Silver, White and Yellow.
Uni-Posca Markers
Uni-Posca markers are filled with water-based pigmented paint that produces bright opaque finishes. The ink can be used in multiple layers (as long as the previous layer is dry)
Suitable for nearly all surfaces, these pens are ideal for writing on paper as they will not bleed through paper.
Available in tip sizes 0.1-1mm, 0.7mm, 1mm, 1.5mm, 2.5mm, 8mm, 15mm
Available in 33 different colours.
Uni Chalk Marker
Non-permanent markers for chalkboards or any non-porous surface, the ink is removable with the bonus of being weather resistant.
Available in tip sizes 1.8-2.5mm or 8mm chisel tip.
Available in colours Light Blue, Red, Violet, White, Fluorescent Green, Fluorescent Pink, Fluorescent Orange, Fluorescent Yellow.
Click Here For Uni Markers Colours, Prices, Buying Options & Availability