Molotow One4All HS Markers
These pocket-sized markers are the most significant markers in Molotows popular ONE4ALL range filled with high opacity, high pigment, acrylic based hybrid paint that drys fast with a silk matt finish and can be used on almost any surface.
The paint is compatible with other Molotow paints and can be mixed with water for a translucent finish or mixed with acetone for use on difficult greasy surfaces.
Click Here For Molotow Markers Colours, Prices, Buying Options & Availability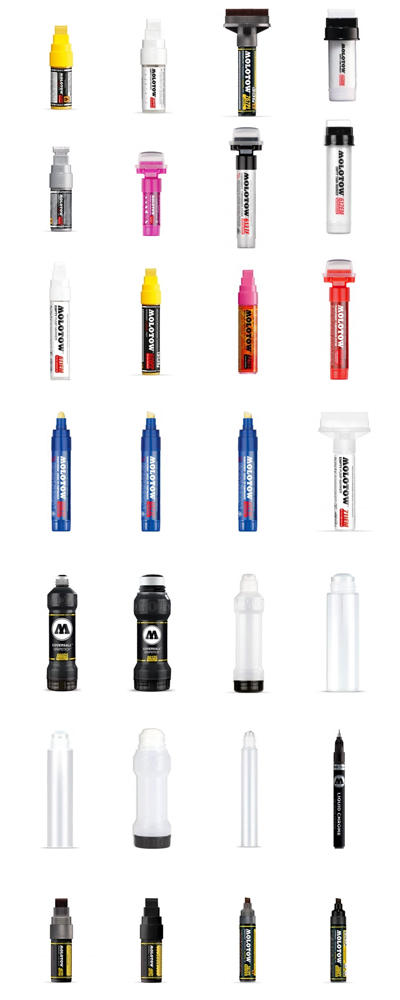 The marker bodies are refillable and feature the trademarked Flowmaster pump valve system which ensures accurate paint flow and control, mixing balls ensure proper mixing of the paint.
The One4All HS markers are available in a range of sizes and interchangeable tips including 1mm fine, 1.5mm crossover, 2mm fine, 4mm round, 2-5 calligraphy, 4mm high flow, 4-8mm chisel tip, 15mm broad, 15mm standard, 15mm high flow, 20mm T Style and 20mm ZigZag effect.
Available in 18 different colours.
Molotow Permanent Paint Marker
Pump valve markers loaded with alcohol based, high pigment, permanent paint.
Supplied with a 15mm tip that can be changed to a different size if required, with non-leak sidekick cap and mixing balls.
Available in 15 different colours.
Molotow Burner
Metallic markers based on the colours of Molotows famous Burner Cans.
Features Molotows pump valve system for perfect flow of the alcohol-based permanent paint that is great for a fast covering of large areas.
Supplied with 20mm T Style tip that can be changed if desired.
Available in colours Burner Black, Burner Blue, Burner Chrome, Burner Copper, Burner Gold and Burner Red.
Molotow Empty Pump Marker System
A range of fill-able markers that can be refilled over 50 times! All the tips are interchangeable making the EM range one of the most versatile fill-able systems on the market.
Features the Molotow Pump Valve System for perfect flow, compatible with both paint and ink.
Available with tip sizes 1.5mm, 2mm, 4mm, 4.8mm, 15mm, 60mm, Brush and Chisel
Molotow Transformer
Interchangeable tip and pump refillable action body filled with Molotow Transformer ink which is alcohol based, fast drying and abrasion resistant.
Tip sizes – Chisel 4-11mm, Round 6-11mm, Wide 30mm
Supplied with short or long bodies, empty versions also available
Available in colours Black, Blue, Pink, Purple or Red
Molotow Masterpiece Coversall
Coversall markers contain dense black alcohol based ink with added synthetic bitumen which gives a durable and permanent plastic coated finish, which is highly opaque, fast drying with good UV and weather resistance.
Coversall markers feature the pump valve system with refillable bodies; they are available in different sizes with different tips that are interchangeable.
Tips include 4-8mm chisel tip, 15mm broad tip, and 60mm high flow tip.
Molotow Masterpiece Speedflow Markers
The Speedflow markers feature Molotow's patented Flowmaster Pump Valve and is filled with Black Speedflow ink on nitrogen-based paint which has a plastic coating with a slight copper shimmer. This paint/ink mix dries quickly, is highly opaque and has good UV and weather resistance making it good for inside and outside use.
Speedflow markers are all refillable and are available in different sizes with different tips that are interchangeable.
Tips include 4-8mm chisel tip, 15mm broad tip, and 60mm high flow tip.
Molotow Liquid Chrome Markers
At last Chrome in pen! The popularity of Molotows Burner cans spawned these chrome markers; the chrome ink is alcohol based with a high pigment, once dry the finish is high gloss, highly opaque and permanent with good UV resistance.
Molotow Chalk Markers
Water-based chalk ink that dries fast and is easily removable, ideal for temporary applications can be made permanent with lacquer.
Suitable for indoor and outdoor use, ten colours available, 33ml pens, compatible with Molotow cans and markers.
Molotow Aqua Squeeze Pens
Empty squeezy pens with a 20ml capacity that can be filled with water or ink.
Available in tip sizes 1mm, 2mm, 3mm, 4mm, 7mm, and 10mm.
Molotow Dripsticks
Dripsticks are an easily fillable paint system which can be filled with both inks and paints available in High Flow or Metal Ball versions in various capacity's.
Molotow Grafx UV
Strong fluorescent alcohol-based ink marker for interior use, very intense under a UV light, refillable and supplied with a 1mm brush tip that can be changed if necessary.
Available in colours Blue, Green, Invisible Blue, Orange, Pink and Yellow.
Molotow Grafx UV Aqua Ink Pump Softliner
A special water-based ink that's ideal for watercolour works, transparent coating, refillable and child safe.
12 colours available.
Molotow Grafx Masking Liquid Pump Marker
Water repellent masking liquid in a pump action marker, refillable, available with 2 or 4mm tips
"Apply the masking liquid on the surface not to be painted, next colourize, let dry briefly and rub down with a finger or a rubber."
Molotow Grafx Blender Pump Softliner
A transparent universal effect marker for blendings, shadings and blooming suitable for use with alcohol based inks.
Supplied with an interchangeable 1mm brush tip, refillable.
Molotow Grafx Calligrafx Softliner
Filled with a permanent, high opaque alcohol based ink that is fast drying and UV resistant with a viscoplastic coating. This pen has been created especially for calligraphy.
Supplied with an interchangeable 2mm chisel tip acts like a paintbrush, refillable and suitable for use indoors and outdoors.
Molotow Grafx Fineliner Pump Marker
A fine marker for the trickiest of jobs features the capillary system for excellent paint flow control. Filled with alcohol based, high pigment, permanent paint.
Supplied with a 1.5mm crossover tip which can be exchanged for 1 or 2 mm tips.
Available in colours Black, Copper, Gold, Silver and White.
Click Here For Molotow Markers Colours, Prices, Buying Options & Availability