Ironlak Markers are an innovation of a young and keen Sydney based artist who could not find the right tools for his creations.
The Ironlak company was spawned as a result. Today these artists tools (which include markers) are used across the globe.
Please Follow Links To View Markers
Ironlak Paint Markers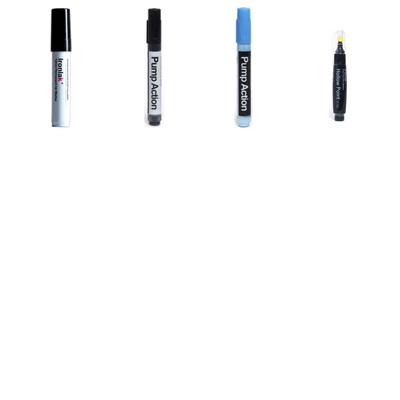 Ironlak Permanent Marker
The Ironlak markers feature a pump action valve system which ensures accurate control and coverage filled with Ironlaks own alcohol-based Ink which is highly opaque and odourless.
The markers are refillable and are available with 7mm or 12mm tips
Available in colours Black, Blood Orange, Cyan, Dark Blue, Green, Magenta, Purple and Red
Ironlak Permanent Paint Marker
Features Ironlaks pump action valve system and 7mm chisel tip, filled with Ironlaks waterbased paint, the body is refillable.
Available in colours Aspen White, Autumn, Cameleon, Frazetta, Pineapple Park, Roarke Black, Soviet, Torquay and Washington.
Ironlak Hollow Point Mini
A squeezy paint marker with a solid steel tip suitable for a range of challenging surfaces, filled with alcohol-based paint.
Available in colours Aspen White, Frazetta, Huey, Roarke Black, Smurf, Soviet and Volcano.
Click Here For Ironlak Markers Colours, Prices, Buying Options & Availability