Gold Spray Paint from the best global paint manufacturers, all types of base mixes in high and low-pressure cans. The Metallic Gold Spray Cans have metal flakes included in the mix to give a sparkling metallic shine.
There are 22 different Gold Cans in total from the following brands
Clash
Dope
Flame
Ironlak
Kobra
Liquitex
Molotow
Montana
Pro Pulse
Spray Bike
Click Here For Gold Spray Paint Prices & Availability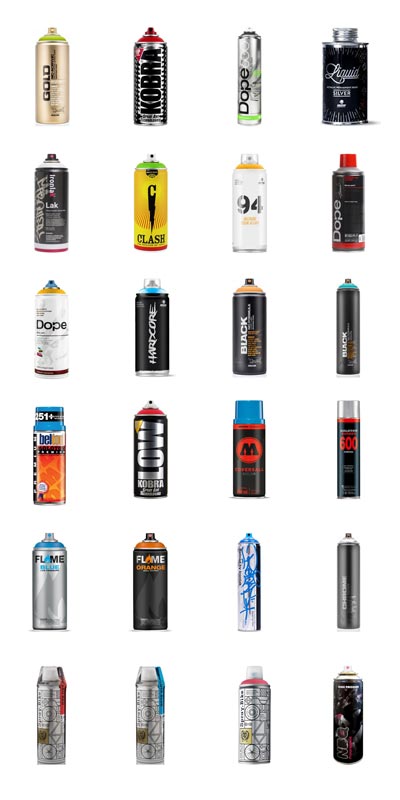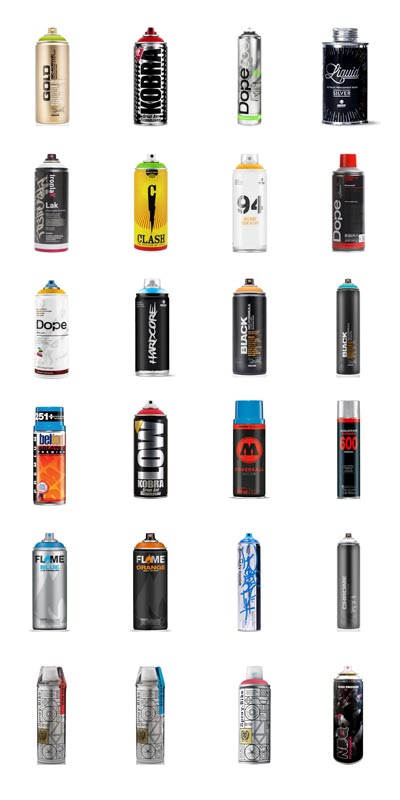 Clash Gold Chrome
A chrome gold non-drip paint from Clash that's UV and weather resistant.
Dope Action Gold
Dope Action Gold a high opaque paint in a high pressure can which combined with the fat cap can cover large surfaces quickly. 600ml cans.
Dope Classic Gold
The ideal all season gold spray paint, the low pressure can deliver the highly concentrated pigmented matte paint like a dream through any cap. Supplied with a level 4 fat cap which will allow you to cover large areas quickly.
Dope Supreme Gold Effect
A gold effect gloss finishes paint in a special high/low pressure can, features fast drying alkyd resins and premium pigments, a highly versatile paint suitable for both commercial and personal use.
Flame Blue – Gold
Flame Blue, value for money acrylic-based paint with a matte finish, low-pressure spray can that's suitable for all season use.
Flame Orange – Gold
Flame Orange, a high output matt paint the synthetic base offers high opacity and UV resistance, this fast coverage paint is suitable to use on all surfaces.
Ironlak Gold
A gloss finish paint that will work well in both summer and winter, supplied with Ironlak Widow Maker Fat Cap.
Ironlak Reload Gold
Ironlak gold in a large 600ml with an ultra-fast cyclone cap, low odour formula.
Kobra HP Gold
Kobra HP Gold is an all-weather paint that can be used in high humidity and cold damp weather on a wide range of surfaces thanks to the special Acrylic mix which dries fast and has a matt finish. The soft valve allows accurate control.
Liquitex Iridescent Antique Gold
A pigmented water-based Iridescent Gold paint. Made from a safe low odour formula, the paint can be cleaned off while still wet but is permanent when dry. An excellent choice for indoor and educational use.
Molotow Burner Gold
The original Molotow gold a high pressure can with pink fat cap, matt finish.
Molotow Coversall Gold
A high opaque semi-gloss paint made with a nitro alkyd base, a deep gold colour with high UV resistance, the cans feature a Flowmaster soft valve.
Molotow Gold Dollar
A high-quality premium paint in a dual pressure can, a fat cap will release at high pressure, and a skinny cap will release at lower pressure.
Molotow UFA Gold Effect
A high gloss gold chrome effect paint with high opaque and pigment properties, no sealant required, a great spray paint for indoor use.
Molotow UFA Metallic Gold
A high opaque high pigment permanent metallic paint, UV and weather resistant.
Montana Gold Chrome
A low-pressure fast drying acrylic lacquer which can be applied to a wide range of surfaces including canvas, concrete, glass, wood, metal and more.
MTN 94 Frame Gold
MTN94 is high covering synthetic-based matt finish spray paint supplied in a variable valve pressure can.
MTN Frame Gold
A waterbased pigmented low odour paint that's suitable for indoor and outdoor use, the can is ergonomically designed with an anti-clog valve. Suitable for use on any surface and waterproof when dry.
MTN Hardcore Gold
MTN Hardcore, the original Gold Street Art paint which has been blinging up walls for nearly 25 years, a synthetic fast drying mix that can be used in the harshest of conditions supplied in a high pressure can help with a skinny cap.
Pro-Pulse Gold
A high-speed gold chrome paint for covering large areas quickly, supplied in 500ml cans.
Spray Bike

 Keirin Flake

Kiremeki Gold Paint containing the traditional Japenese metallic Kerin flake, a highly pigmented matte powder coating which will adhere to many surfaces.
Spray Bike

 Keirin Sunlight

A glitter version of the awesome Kerin Flake base spray paint that doesn't drip and is very easy to apply, Tokyo Gold colour that looks incredible under direct sunlight.
Gold Spray Paint FAQ
How to make Gold Spray Paint Shiny?
Make sure the paint you choose is metallic gold, and for maximum shine, it's best to undercoat with a white primer and seal with a high gloss varnish.
How to make Gold Spray Paint Look Antique?
To achieve an antique gold aged look simply seal your paint with a matt varnish.
Can Gold Spray Paint be used on Plastic or Polystyrene?
Yes, undercoat your surface with a Plastic or Polystyrene primer.
Can A Glitter Effect Be Achieved With Gold Spray Paint?
Yes, seal your paint with a glitter varnish like Montana Hologram Glitter Effect Spray