Winsor And Newton Brush Markers are twin-tipped, featuring a flexible brush tip and a chisel nib on the other end of the pen.
The Brush Markers allow precision with flexible line control, a highly versatile pen that's popular with many artists of all disciplines. The chisel tip is perfect for filling large areas quickly.
If you require the brush marker nib in conjunction with a more delicate tip, take a look at the Winsor And Newton Promarker. The Promarker has the brush tip on one end and a fine tip on the other (instead of the chisel tip)
Please Follow Links To View Markers
Brush Markers (brush/chisel tip)
Pro Markers (brush/fine tip)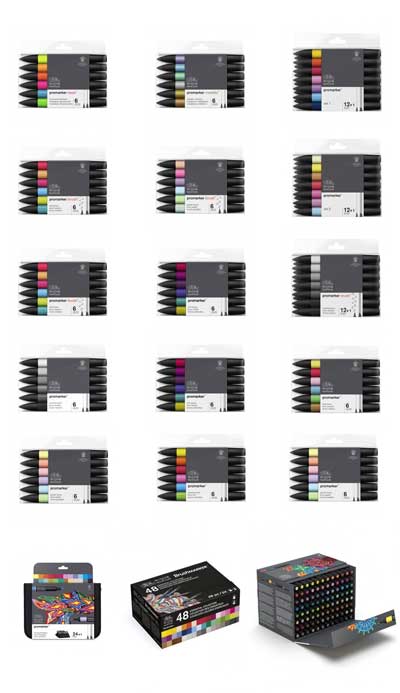 The markers are filled with high-quality alcohol-based ink, malleable, translucent and blends well with other inks.
No streaking occurs with a Winsor & Newton Brush Marker. The ink remains consistent throughout the area it's applied.
The translucent nature of the ink makes them perfect for layering. Go over an area again to create a darker gradient.
The colourless brush blender works perfectly for blending. With some practice, you'll easily soften and blend your colours. As the alcohol ink dries, the colours lighten and look correctly blended.
Perfect for use on bleed-proof marker pads but will also work on a variety of other surfaces.
The Brush Marker is available in 72 colours
The Pro Marker is available in 148 colours
Available in single markers and sets of 6, 12 and 48
Brush Marker Sets
Brush and Pro Markers are available in the following sets
Pastel Tones – 6 markers
Skin Tones – 6 markers
Rich Tones – 6 markers
Neutral Tones – 6 markers
Mid Tones – 6 markers
Vibrant – 6 markers
Landscape – 6 markers
12+ – 12 markers
Black & Greys – 24 markers
Student Designer Set – 24 markers
Procreate Arts & Illustration – 24 markers
Essential Collection – 48 markers
Extended Collection – 96 markers
About Winsor And Newton
Winsor And Newton are a truly British company with a rich history of nearly 200 years. William Winsor was a chemist, and Henry Newton, an artist. The pair collaborated in 1832, creating a range of high-quality watercolours, oils and brushes.
The duo was eventually issued royal appointments, which allowed them to take their innovations across the globe. The range expanded in the early 1900s. Innovative products, such as fast drying and water-mixable oils, were introduced.
The original company ethos remains to this day. Winsor And Newton are always innovating, embracing fresh ideas using the latest in artist materials and technologies. Winsor And Newton is a much-loved brand who's tools have even been used by famous, legendary artists of bygone eras.
Today Winsor And Newton's tools are used by every artist level, from rank beginners to seasoned professionals. All products are made to ethical and sustainable, environmentally conscious standards.
Click Here For Winsor And Newton Brush Markers Prices & Availability