Fleur Spray Paint comes from the renowned Italian company with over 70 years experience in the decoration and restoration game. Some Urban Artists use Fleur Paint in their arsenal also.
A range of cans for priming, painting and finishing various surfaces is available in 300ml sizes.
Click Here For Fleur Spray Paint Prices & Availability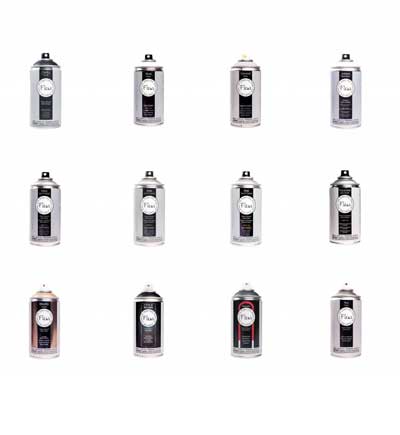 Fleur Paint Spray Cans
Fleur Metallic Paint
A highly pigmented waterbased metallic spray that's work on most surfaces. Available in colours Aston silver and Lingotto (gold bar).
Fleur Chalky Look Spray
Chalk finishes have risen in popularity in recent years and are now available in a spray in a can. The waterbased paint has a low odour, good coverage with a low drip.
Matt Finish
Available in 26 colours
Paint marker pens also available
Fleur Chalkboard Paint
Transform any surface into a writable chalkboard with this spray can. Chalkboard paint is waterbased with a low odour. Easy to spray and clean.
Fleur Magnetic Spray
Want to use metal pieces in your artwork? Fleur Magnetic spray makes any surface magnetic. Even more incredible is that this spray is waterbased—black finish.
Fleur Primer Spray Cans
Fleur Anti Rust Primer
An anti-corrosion spray primer suitable for most metals
Fleur Universal Primer
The Fleur Universal Primer will work on most non-absorbent surfaces such as metals, plastic and glass.
Fleur Wood Primer
An absorbent surface white wood primer for use on wood, ceramics and canvas. Two coats required.
Fleur Varnish Spray Cans
Fleur Waterbased Varnish
Waterbased spray varnish in Gloss, Satin, or Matt designed for use with Fleur spray paints and primers. The low odour formula's suitable for indoor use.
Fleur Polyurethane Varnish
A hard-wearing solvent-based varnish that's suitable for indoor and outdoor use. Provides a transparent finish with excellent UV resistance.
Fleur Glitter Rainbow Varnish
Give your Fleur spray paint a glitter finish with the Glitter Rainbow Varnish. Waterbased.
Fleur Wax Finish Spray
A wax finish sprays for Fleur paints, ideal for furniture.