AKA Colors Spray Paint is made especially for Street Artwork by an experienced team in Valencia Spain.
The Spray Paint is made direct from raw materials using various processing methods to complete a high standard product that stands alongside the top spray can brands, favoured by urban artists.
Click Here For AKA Colors Spray Paint Prices & Availability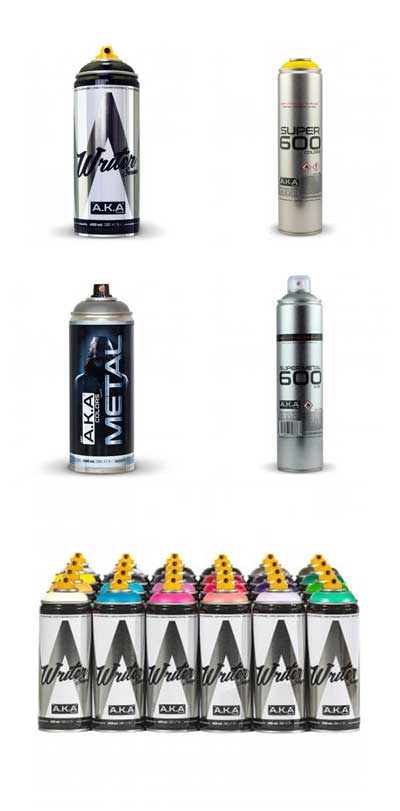 Writer
AKA Writer is a matt finish Acrylic/Synthetic hybrid based paint made for graffiti work. The paints delivered by a low modular pressure can and dries fast and hard with good UV resistance.
Favoured for detailing and works incredibly well for painting over the silver.
Supplied in a 400ml can with banana cap for high coverage
102 colours available
Available in singles, 12 & 24 packs
Super
AKA Super is ideal for covering large areas in a short space of time. A fast-flowing, high pressure can delivers ultra-fast drying matt finish paint with excellent adhesion.
18 vibrant colours available
600ml can
Metal
AKA Metal is a limited edition Can that's ideal for detailed work. A grippy fast-drying paint that dries hard with good UV resistance. Near silent, low-pressure valve system.
400ml Cans
4 metallic colours available
Super Metal
AKA Super Metal is a high-pressure high covering chrome spray paint with excellent adhesion. The paint dries fast with a shiny finish and is compatible with all other AKA paints. Made with high-quality pigments and resins that provide high UV radiation resistance.
600ml Cans
One colour – Chrome Brillo
AKA Caps
AKA Caps do the job at a fair price, ergonomically designed for the finger with a male fitting.
Micro-Cap – Fine Line, 0.8-2.6 cm
AKA Pink – Thick Line, 1.5-6 cm
Fat Grey – Thick Line, 1.8-7.5 cm
Joker – Medium Line, 2-4.5 cm
AKA Transversal – Ultra Wide Line, 10cm