Ironlak cans, markers and art supplies are used by graffiti artists worldwide including Mast, Does, Sirum1, Berst, Ewok and Askew One.
Ironlak Spray Paint has been developed especially for the street artist to give high quality at sensible prices, an exterior and interior gloss finish paint with accurate control that can be used in all weather conditions.
90 colours available in 400ml cans, supplied with widow maker fat cap
Click Here For Ironlak Spray Paint Prices & Availability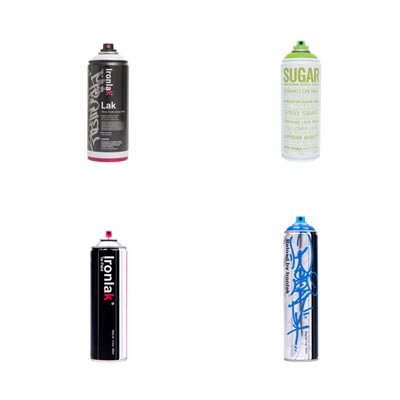 Ironlak Little Laks
Ironlak Spray Paint in a pocket-size 100ml can.
Ironlak Reload
Ironlak in a bigger more powerful can that's supplied with Ironlak super fat cyclone cap.
600ml cans with 8 colours available
Ironlak Animal
The Animal is the first ever sprayable ink in a can, the ink is permanent and will drip and bleed through paint.
Available in red, 400ml cans supplied with a widow maker extra fat cap
Ironlak Tar
Ironlak Tar spray paint is bitumen based and can be used in all weathers with good control and ultra fast drying characteristics. That annoying browning found in other bitumen paints has been pretty much eliminated with this special paint.
Available in Black or White in 500ml cans
Ironlak Techies
Transparent Black or White designed to go over the top of other Ironlak paints great for shading and gradients
Sugar Spray Paint
Sugar Spray has been developed with water and sugar cane to alcohol as a cleaner safer alternative to petroleum-based solvent sprays.
This paint has a high opacity Matt finish with soft pressure, UV resistant with very low odour
63 colours available in 400ml cans
Yardmaster Spray Paint
A classic spray paint with a rock hard satin finish works especially well on metal and can be used in all conditions
24 colours available in 400ml cans
Ironlak Spray Paints are available in bulk packs
Click Here For Ironlak Spray Paint, Colours, Prices, Buying Options & Availability