Tombow Brush Pens are a firm favourite amongst arts and crafts enthusiasts, designers, and street writers. Each pen is exceptionally versatile and a joy to use.
The highly popular Tombow ABT Dual Brush Pens, are ergonomically engineered sit perfectly in the fingers for comfort and precision writing.
Tombow started life as a Japanese pencil maker in 1913 and is now a renowned global brand supplying many countries.
Click Here For Tombow Brush Pens Prices & Availability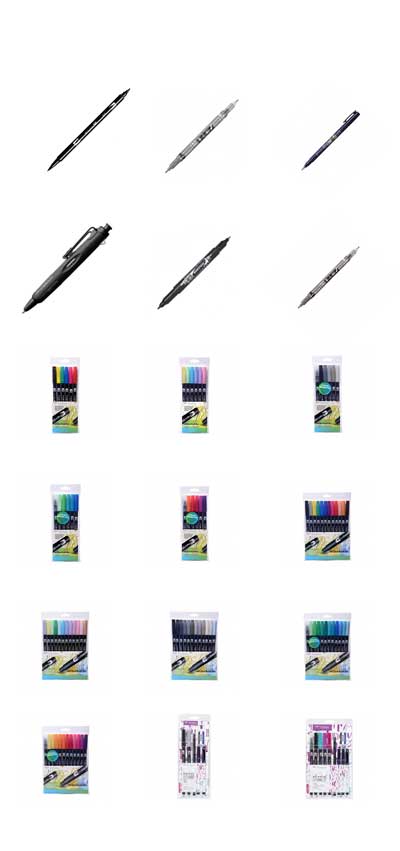 Tombow ABT Dual Brush Pens
The Tombow Dual Brush Pen is their most famous and widely used pen featuring two tips. The first tip is soft and brushed shaped for producing various thicknesses of stroke, from fine to bold. The second tip is sufficient for accurate lines.
There are 107 water-based colours available in the ABT range along with a specific blender pen. The water-based odourless ink is perfect for blending and doesn't bleed—the tips self-clean after blending.
ABT Dual Brush Pens are Suitable For
Colouring
Calligraphy
Drawing
Watercolouring
And more
Tombow ABT Pro Alcohol Marker
The Tombow ABT Pro Alcohol Based Marker has been designed for professional use. A twin-tipped pen filled with alcohol-based ink that flows slowly giving precision control—the ink's good for creating dimension with layering.
The tips are chisel for broad marking and a fine brush tip for producing lines of different thicknesses.
Available in 107 colours
Tombow ABT Pro Alcohol Markers Are Suitable For
Architectural Drawings
Comic Art
Fashion Design
Illustrating
Product Design
Sketching
And More
Tombow Brush Pen Sets
Tombow Brush Pens are available in convenient sets.
Dual Brush Marker Case
The full set of dual brush pens with 107 colours in a hard carry case with handle, allowing you to take your Tombow pens on the move.
Dual Brush Pen Packs
Packs of Dual Brush Pens in 6's,12's or 18's all have a mixture of colours.
Packs include Primary, Pastel, Skin Tone, Grey, Vintage, Candy, Secondary, Earth and Manga.
Watercolour Sets
Watercolour sets include five dual brush pens, drawing pen, pencil water brush, eraser and water palette—everything you need to create watercolour art.
Watercolour sets include 'Greenery' and 'Floral.'
Creative Journalling Kit
Ever thought about starting a bullet journal? Now there's no excuse with the Tombow Creative Journaling Kit. Includes four dual brush pens, a Fudenosuke Brush Pen, Mono edge highlighter, monograph pencil and an a5 bulleted notebook.
The notebook contains thick, high-quality 120gsm paper (perfect for Tombow pens) with 120 pages.
Available in 'Pastel' or 'Bright'.
Lettering Sets
Lettering sets for all calligraphists levels whether you're starting or an experienced writer.
Lettering sets include 2 -5 dual brush pens, Fudenosuke Calligraphy pens, blenders, MONO Twin permanent marker, pencil and eraser.
The pens included in sets depending on the set you buy. Sets include 'Beginner' 'Advanced' 'Good Vibes' and 'Cozy Times'.
Have Fun At Home Sets
Everything you need to have fun at home with pastels, water colouring or lettering. All the pens you need for each discipline, including paper pads that work exceptionally well with the pens.
The 'Watercolouring' and 'Lettering' sets include Mono dust catch erasers. Made from a unique polymer formula, eraser particles stay on the eraser and are not left on the paper. You can now erase with peace of mind you won't accidentally damage your artwork.
The 'Pastel' set includes ten dual brush pens, seven fibre tip pens, one mono fineliner and a4 pad of paper.
The 'Watercolouring' set includes seven dual brush pens, two refillable water brushes, 1 Mono fine liner, 1 Mono mechanical pencil, one eraser, one blending palette and a4 pad of paper.
The 'Lettering' set includes seven dual brush pens, 5 Fudenosuke pens, 1 Mono marker, 1 Mono pencil, one eraser, one paper pad.
Tombow Waterbrushes
Tombow Waterbrushes are the perfect accessory for blending work. Fill the brushes with water and use in conjunction with the dual brush pens to blend.
Available in fine, medium and flat, in singles or the full set.