Tombow Fudenosuke Brush Pens are the ideal tool for hand-lettering and calligraphy featuring a hard elastic brush tip that changes line thickness with applied pressure.
A good choice for beginners who find the more rigid brush easier to write with than a softer brush tip pen. Not just for novices, the Fudenosuke is the favourite pen of many advanced writers.
The pens work well for drawing, journaling and day to day writing.
Click Here For Tombow Fudenosuke Brush Pens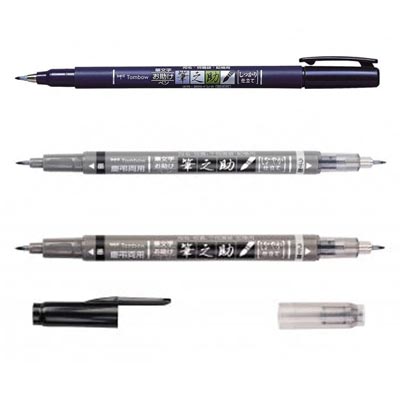 Fudenosuke Brush Pens are filled with water-based odourless ink the pens write ultrafine to medium lines, depending on the pressure applied.
Available in single pens or packs of 10 colours
Soft tip and harder tip versions available filled with black ink.
Also a double-tipped version with grey and black ink
Fudenosuke Colours
Fudenosuke Brush Pens are available in the following colours.
Black
Blue
Brown
Green
Grey
Orange
Pink
Purple
Red
Yellow
Fudenosuke Brush Pens Are Suitable For
Calligraphy
Drawing
Hand Lettering
Writing
And More
Calligraphy & Handlettering Effects
Here's a couple of easy to achieve Calligraphy and Handlettering effects with the Fudenosuke Brush Pen.
Calligraphy Effect
First of all, write a word in joined-up handwriting.
Next, draw extra lines close to (but not touching) the downward strokes of your word.
Finally, blend the gaps between the downward strokes and the second lines.
Handlettering Effect
For the 'upstroke' portion of each letter use little pressure, this will create a thin line.
The 'downstroke' portion of the letter uses greater pressure to create a thicker line.
Remember practice make perfect
Click Here For Tombow Fudenosuke Brush Pens Prices & Availability