Use Metallic Spray Paint to create the appearance of metal on your artwork, crafts and DIY projects. Various firms make metallic spray-cans. Here are the best ones.
AKA Colors Metal Series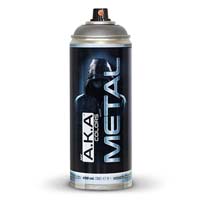 AKA Colors Metal Series is metallic spray paint with an acrylic/synthetic base that adheres to any surface. The paint's delivered in a low-pressure 400ml spray-can with a quiet valve and a pink dot fat cap.
The paint dries fast and is UV resistant
Available in Colours Hyper, Blue, Hyper Green, Hyper Pink and Silver
AKA Colors Super Metal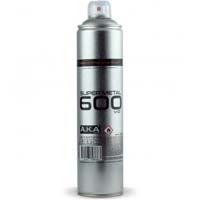 AKA Super Metal is a high-pressure metallic silver spray paint in a 600ml spray-can fitted with a pink dot fat cap. The best combination for covering large areas. It dries quickly and is UV resistant.
Fleur Metallic Paint
Fleur is a water-based metallic spray with a high concentration of pigments. The paints suitable for all surfaces and is supplied in a 300ml spray-can.
Available in colours Aston Silver and Lingotto
Kobra Krome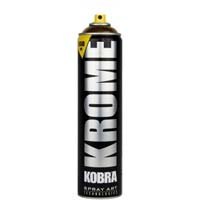 Kobra Krome is an acrylic based metallic spray paint that's compatible with other paint brands—supplied in a 600ml spray-can. Kobra Krome is an excellent choice to cover large surface areas.
Molotow Belton Chrome Effect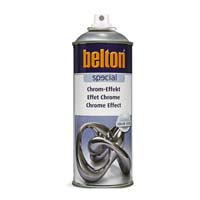 Molotow Belton Chrome Effect is a highly reflective metallic spray paint with a near mirror-like finish with some degree of weather resistance.
Supplied in 400ml spray cans
Available in colours Chrome, Copper and Gold
Molotow UFA Effect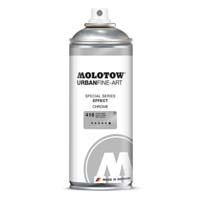 Molotow UFA effect spray paint is available in three highly pigmented, opaque colours suitable for indoor decorative applications. The finish is high gloss and doesn't need sealing.
Colours include Chrome, Copper and Gold
Molotow Burner Chrome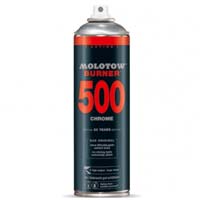 Molotow's original chrome spray paint with high diamond shine glossy finish. Burner Chrome's supplied in high-pressure spray-cans of 150ml, 400ml and 500ml with a pink dot fat cap.
Molotow UFA Metallic Spray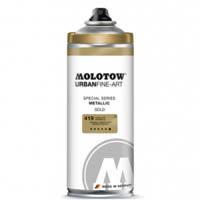 UFA's a permanent opaque and highly pigmented metallic spray paint with good UV and weather resistance.
Available in metallic silver or gold, supplied in a 400ml spray-can.
Montana Gold Chrome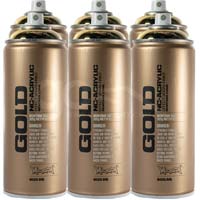 Montana Gold Chrome is an NC-acrylic based spray paint that provides a semi-gloss gold finish to most surfaces. The low-pressure spray-can fitted with a gold stock cap allows for excellent coating accuracy.
Montana Metallic Effect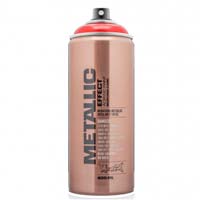 Montana Metallic-effect spray paint is a fusion of the latest paint technology with metallic colours. An acrylic-nitro combination base ensures coverage and adhesion on any surface.
The paint is lightfast with a semi-gloss finish which is durable and flexible. The spray-cans supplied with a standard cap. It can be used in combination with other Montana markers and spray paints.
Available in colours
Black
Caribbean
Champagne
Copper
Graphite
Gold
Ice Blue
Red
Rose
Metallic Avacado Green
Metallic Aztec Gold
Metallic Titanium
Plum
Silver
Tennesse
Montana Silver Chrome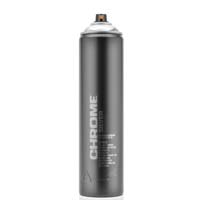 The metallic spray paint for covering large areas in little time. A large 600ml spray-can fitted with a level 5 fat cap.
Montana Gold and Black spray paints will cover the silver chrome immediately after application.
MTN Aluminium Rims Paint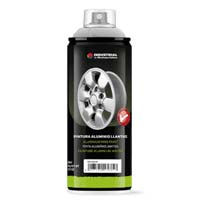 Here's a speedy drying metallic spray paint designed for car rims. The paint is a solvent-based acrylic that contains metallic inorganic pigments and premium resins. The paint adheres well, dries hard and provides a good shine.
MTN Metallic Paint
An acrylic solvent based paint that's loaded with pearlescent pigments that create a high shine finish. The paint dries fast, can be applied to any surface and is suitable for outdoor use.
Available in 9 metallic colours, which include.
Spray Bike Cold Zinc
Cold Zinc Spray Paint creates a non-corrosive protective barrier on metal surfaces. A primer designed for bike work provides a metallic grey finish.
Spray Bike Kerin Flake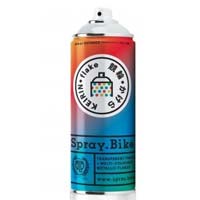 A revolutionary matt powder coat in a spray can be designed for metal and carbon bike parts. The paint is also useful for other applications. Kerin Flake is easy to apply and doesn't run or drip, having being made from a unique Japenese flake.
Available in spray-can sizes 200ml and 400ml
56 colours to choose from
Metallic Spray Paint FAQ's
What Is the Best Metallic Spray Paint?
The best Metallic Spray Paint depends on the surface you're spraying on and what you want the paint to do. Spray paint for wheel rims coated outside requires a different formula than spraying glass for art and craft creations. All the spray-cans listed are up to the job read through, and you're sure to find a suitable metallic spray paint for your job.
What's The Best Metallic Spray Paint For Metal?
Solvent-based acrylic or acrylic-combination paints are suitable metallic spray paints for metal. Japenese Kerin Flake is another alternative option. Most metallic spray paints have sub-optimal abrasion resistance.
When spraying metals, you'll achieve better results undercoating and top coating with a spray varnish. Always read the instructions on the spray-can to establish if the paint's suitable for metal.
What's The Best Metallic Spray Paint For Indoor Use?
Water-based metallic spray paints are the best indoor usage option, as they contain mostly water and less harmful chemicals.
Water-based metallic spray paints are considered harder to apply than other bases, such as acrylics adhere better and dry faster. If you're a beginner using water-based metallic spray paints will likely take some practice to achieve the result you want.
What's The Best Metallic Spray Paint For Graffiti?
Most metallic spray paints will work for graffiti, pick acrylic or nitro-combi bases for outdoor work, avoid water-based paints.
For detailing, pick a low-pressure spray-can with a standard to the medium-sized cap. For covering and filling larger areas, select a large 600ml high-pressure spray-can with a fat cap.
Can You Use Metallic Spray Paint On Wood?
Yes, Metallic Spray Paint can create some stunning effects on wood furniture. Smoother surfaces will produce a shinier, more metallic effect while coarser surfaces will produce more of an aged look. When spraying metallic paint onto wood be sure to use a primer and varnish sealer.
Is Metallic Spray Paint Expensive?
In general Metallic Spray paint costs slightly more than standard spray paint, however, it won't break the bank and you can pick up a 600ml spray-can for under £5.