Molotow was founded in 1996 with the mission to create the perfect tool for artists across the globe, Molotow has revolutionised spray technology with their patented spray systems. With the help of Graffiti artists, Molotow created the first graffiti optimized spray cans were created with sharp edges, lower mist and the first-ever Graffiti can without noisy mixing balls, a feature copied by other Graffiti Can manufacturers. This paved the way for other spray cans and markers available from Molotow.
Please Follow Links To View Spray Cans
Molotow One4All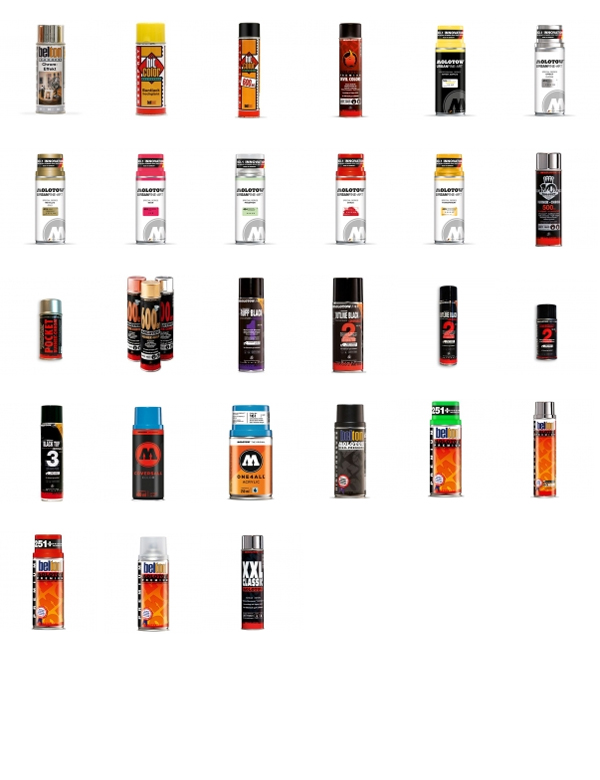 Belton Chrome Effect
400mls of Chrome in a can! If you're after a shiny mirror type effect, then this metallic spray will do the job this isn't an all-weather paint so can only be used in reasonable conditions.
Belton HIT Colour Matt black
The original favourite Matt Black spray, a low pressure can which covers large areas, available in 400ml and 600ml cans
Molotow Devil Colours Matt Black
Blacking up walls since 1997 the Devil is a densely pigmented matt black paint in a 600ml can and features Molotows Flowmaster valve which ensures even coverage.
Molotow Urban Fine-Art
The Urban Fine-Art range Acrylic is a specialist fine detail paint that can be used both indoors and outdoors, the patented Flowmaster variable valve ensures great control for the most fiddly pieces of work.
This paint is fast drying, suitable for all surfaces, airbrush optimised and is UV and weather-resistant
Available in 48 different colours and supplied in 400ml cans
Molotow Urban Fine-Art Effect
The opaque paint in Molotows popular fine art range, a densely pigmented paint for indoor use
Available in Chrome, Gold or Copper
400ml Cans
Molotow Urban Fine-Art Metallic
Fine Silver and Gold in a tin! A weather-resistant permanent paint that gives a densely pigmented, opaqued metallic finish
Abrasion-resistant, UV and Weather Resistant, Lightfast
400ml Cans
Molotow Urban Fine-Art Neon
A range of Fluorescent, high pigmented, permanent, opaque, acrylic paints that are lightfast and UV resistant. Available in colours neon yellow, neon pink, neon orange, neon blue and neon green.
Spray on a white surface for maximum glow.
400ml Cans
Molotow Urban Fine-Art Phosphor
Phosphor coatings absorb light then reemit the photons at longer wavelengths, Molotow Urban Fine-Art Phosphor is a luminescent paint with a phosphor pigment colour.
The phosphor is self-illuminating, and the semi-opaque finish will stay luminescent for a long time.
UV and Weather resistant
400ml Cans
Molotow Urban Fine-Art Removable Chalk Spray
This light fast opaque chalk spray provides a non-permanent heavily pigmented finish that removes easily as soon as it is washed or it starts raining, you can make the chalk paint permanent though if you top coat with UV varnish.
Available in colours black, green, light blue, yellow, orange,  pink, red, royal blue, violet, white
400ml Cans
Molotow Urban Fine-Art Transparent
A transparent semi-opaque, lightfast and UV resistant permanent paint available in colours melon yellow, shock blue, signal black, signal white and traffic red.
This paint has been specially designed for shadings and gradients and is suitable for outdoor and indoor use.
Airbrush optimised with patented Flowmaster vari – valve
400ml Cans
Molotow Burner Chrome
High pressure, ultra-high gloss all season chrome that will shine for a long time, the first chrome spray on the market without a mixing ball, features Flowmaster valve and pink fat cap.
Available in colours chrome (in 150ml pocket version 500ml or 600ml cans)  gold and silver (500ml cans)
Molotow Coversall 1
Bitumen in a can with a smooth silk matt finish features a smooth outlet valve for accurate control.
Suitable for all weathers, 500ml cans
Molotow Coversall 2
The same as above but with a Flowmaster valve for sharp lines and edges can be used in all weathers, supplied with a fat cap.
Available in 150ml pocket cans 400ml or 600ml
Molotow Coversall
Bitumen all-weather paint for steel and absorbent surfaces, supplied with a fat cap.
Available in 400ml and 750ml cans
Molotow Coversall Colour
Coversall Colour is a high opaque semi-gloss pure pigmented paint with a rich deep finish, UV resistant and Flowmaster soft valve, suitable for indoor and outdoor use. Compatible with all paints in the Molotow range.
Available in 49 different colours, 400ml cans
Molotow Premium High Pressure
The popular Premium Molotow black in a high pressure can which ensures you get more bang for your buck (25% more efficient) when using on larger areas.
Pigmented nitro alkyd compound, UV and weather-resistant can be used in all weather, supplied with a fat cap.
18 colours available in 400ml cans
Molotow Premium Neon
The best selling premium spray paint in neon colours yellow, orange, pink, blue and green.
Supplied with Flowmaster valve and super skinny cap
400ml cans
Molotow Premium Plus
Premium Plus was the first purposely made urban art spray created over a decade ago with the input of some world-famous street artists.
The premium has the highest possible UV and weather resistance with accurate low pressure (thanks to the Flowmaster valve) and the patented nitro alkyd compound base.
A massive range of colours with 251 to choose from in 400ml cans with 12 of those colours also in 600ml cans.
Supplied with pink dot fat cap
Molotow Premium Transparent
A transparent version of the premium paint for gradients and shadings features the same great UV resistance and low-pressure spray for the most skilful work.
Available in 15 colours along with gloss and matt clear coats
Molotow XXL Classic
One of the original Belton paints in Black or Chrome with Flowmaster valve, supplied with high output fat cap.
Click Here For Molotow Spray Paints, Colours, Prices, Buying Options & Availability