Liquitex is the original water-based spray paint invented by Henry Levison in 1955. Today Liquitex Spray Paint is favoured among many artists across the globe with a range of Cans to cover all situations.
Click Here For Liquitex Spray Paint Prices & Availability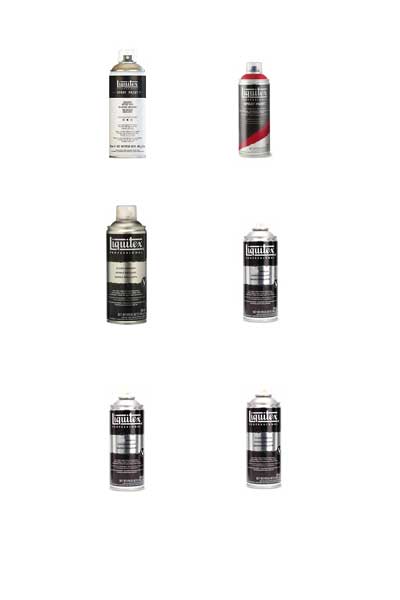 Liquitex Professional Spray Paint
A professional-grade water-based paint that can be used on many surfaces, the paint itself is highly pigmented, Matt, lightfast and very low odour making it ideal for indoor use.
The paint can be removed easily with water when wet and is permanent with a brilliant durable finish when dry. Made for professional artists.
Liquitex Professional is available in 100 colours in 400ml cans.
Liquitex Gold
Liquitex Gold is a professional grade Iridescent Antique Gold spray paint. Colour brilliance and lightfastness guaranteed. Will work on most surfaces.
Supplied in a 400ml Can with a standard cap. Interchangeable with caps of other sizes.
Liquitex Spray Varnish
Spray varnish is for artists who want to make their creations permanent finishing your acrylic pieces with this water-based varnish gives a hard clear non-yellowing coating that ensures your work is protected from the weather (hot, cold or wet) ultraviolet light and discolouring.
Available in Gloss, Matt and Satin
Low odour so suitable for indoors as well as outdoors
Compatible with many different paints
400ml Cans