Glass Spray Paint is the best solution for coating glass, whether you have an art, craft or DIY project. Not all spray paint cans will work on glass.
When choosing a spray paint, you must choose one that'll adhere to the glass and leave a consistent colour throughout.
Here we have a selection of spray paints in various colours and effects that work perfectly on glass.
Montana Glass Spray Paint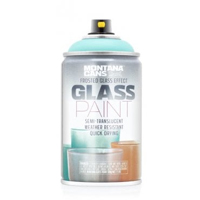 Montana Glass Spray Paint is designed to colour glass with a semi-transparent, frosted matt finish. The finish gets denser and less translucent with more coats applied.
Nitro-Acrylic Combi base can be used in conjunction with other acrylic and synthetic based paints.
9 colours available
250ml spray-cans
Touch dry in 1 hour
Cured in 24 hours
MTN Glass To Mirror Converter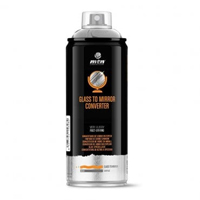 Need to turn glass into a mirror? Look no further than MTN Glass To Mirror Converter. Apply to the back of any glass to create a mirror effect.
Belton Rust Effect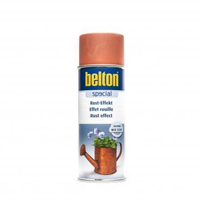 Belton Rust Effect creates a high opacity rusty finish on glass surfaces. Belton can be used indoors or outside. Ensure the glass is free of grease and dirt before applying the paint.
400ml spray-can
Belton Ral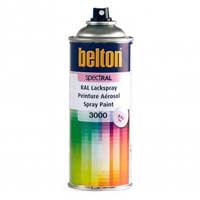 Now you can spray Ral colours on glass with Belton Ral spray cans. Ral is a standardised colour system for painting and powder coating used across Europe.
Acrylic base with a gloss finish
400ml mid pressure spray-can supplied with a standard skinny cap
163 colours
Montana Hologram Glitter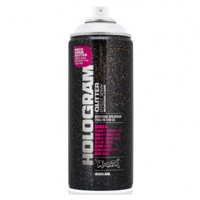 Montana Hologram Glitter is a translucent spray that creates a glitter effect on glass. A semi-gloss lacquer loaded with metallic holographic glitter particles. The greater number of coats, the greater the glitter intensity.
Montana Marble Effect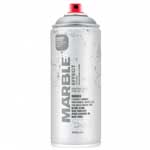 Create a realistic-looking marble effect on glass with the Montana Marble Effect spray can. The paint includes very fine strands that closely mimic marble.
6 colours available
400ml spray-can
Compatible with Montana gold and acrylic markers
Montana Metallic Effect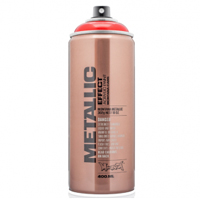 Montana Metallic Effect is an acrylic-nitro combination base spray paint that provides a hard-wearing semi-gloss finish on glass.
The 400ml spray can feature a medium pressure valve and is fitted with a standard cap.
Montana Granit Effect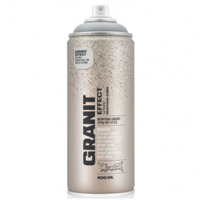 Granit Effect is a water-based glass suitable spray paint containing plastic particles that create a real looking granite effect.
400ml spray can
4 colours
Kobra HP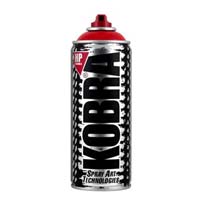 Kobra HP is a solid content matt finish spray paint that'll create an opaque finish on glass. The paint adheres well and dries fast, thanks to the acrylic formula.
Soft valve spray can for accurate control
145 colours
400ml or 600ml spray-cans
Montana Gold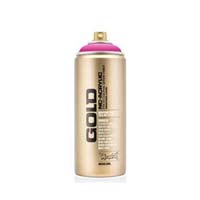 Montana Gold is a fast-drying nitro-combi acrylic lacquer that's ideal for coating glass. The spray can feature a low-pressure valve system for precision spraying.
Semi-gloss finish
Montana Gold stock cap
200+ colours
Glass Spraying Preparation
Here are a couple of products to aid in your glass spraying preparation to create the best possible finish.
MTN Ethyl Alcohol 70%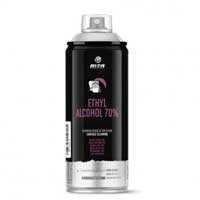 For the best results when spraying glass, the surface needs to be clean and free from all grease and debris. MTN Ethyl Alcohol 70% is a spray cleaner that'll get your glass perfectly clean for spraying.
Spray on your glass surface, leave for 1 minute, then wipe with a soft cotton cloth. The surface is now ready for the glass spray.
Fleur Primer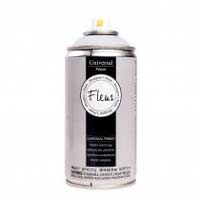 When spraying a solid, non-transparent finish onto glass, priming will yield better results. Fleur Primer is perfect for glass designed specifically for adhesion to solid, shiny, non-absorbant surfaces.
Leave to dry for 24 hours before spray painting.
Off white colour
300ml Spray Can