Rust Effect Spray Paint provides the look of rusted metal, an unusual coating used primarily for arts crafts and some DIY applications.
Rust is a suitable effect for some edgy interior designs such as a 'Steampunk' or the 'industrial' look.
MTN Rust Effect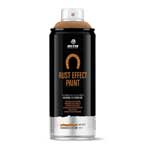 A fast-drying textured paint that mimics aged rusty metal. Acrylic base allows application on most surfaces, including glass, metal and plastic. Suitable for car panels also.
Plastikote Metallic Sprayrust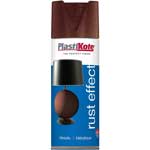 A strong and rich rust effect metallic spray paint. Matt finish with a light texture to recreate that true rusting look.
Click Here For Rust Effect Spray Paint Prices & Availability