Upfest is Europes largest Street Art, and Grafitti festival and 2016 saw over 300 artists from over 40 different countries descend onto the streets of Bedminster, Bristol to paint live at a variety of venues to an audience of over 30,000 people.
St Francis Church
There were numerous artists working on boards in the gardens of St Francis Church, here are a few pics of the artists and their work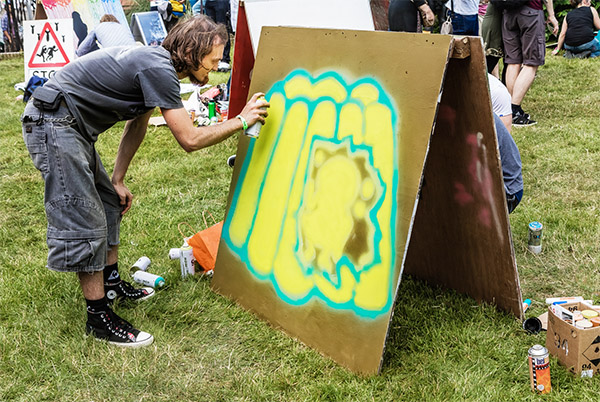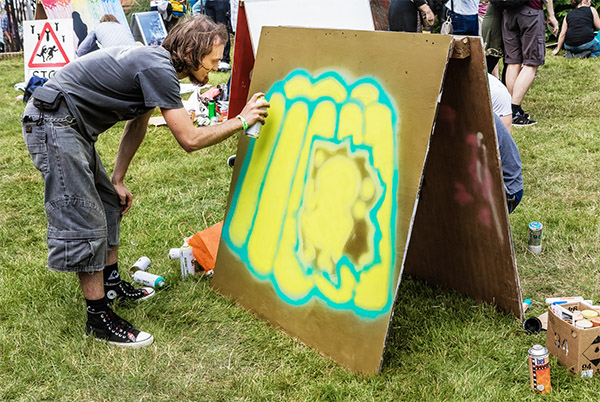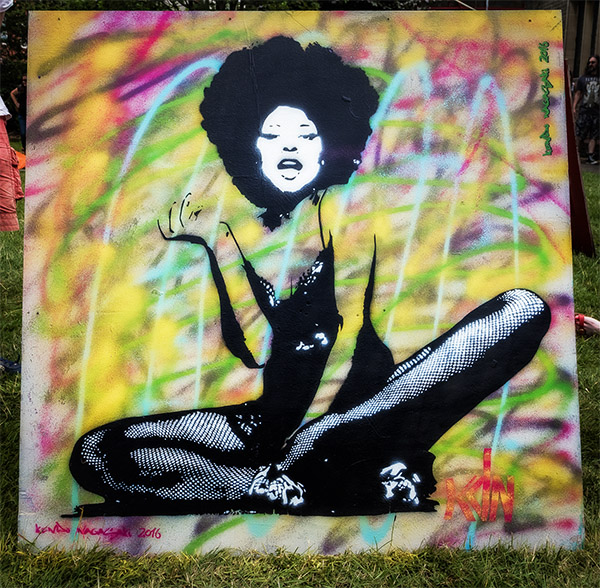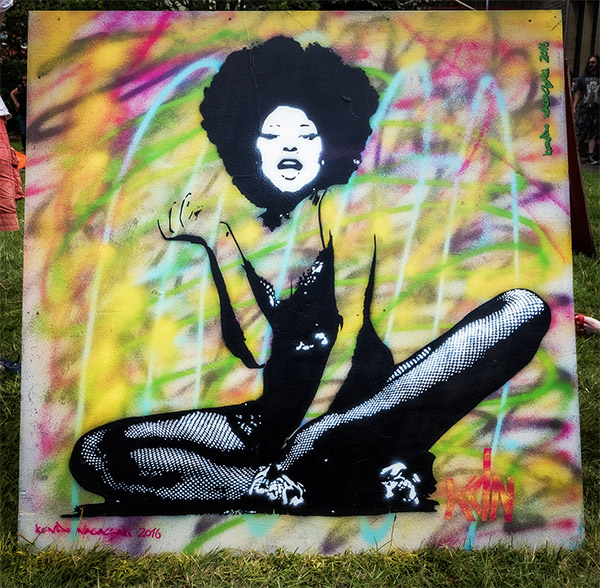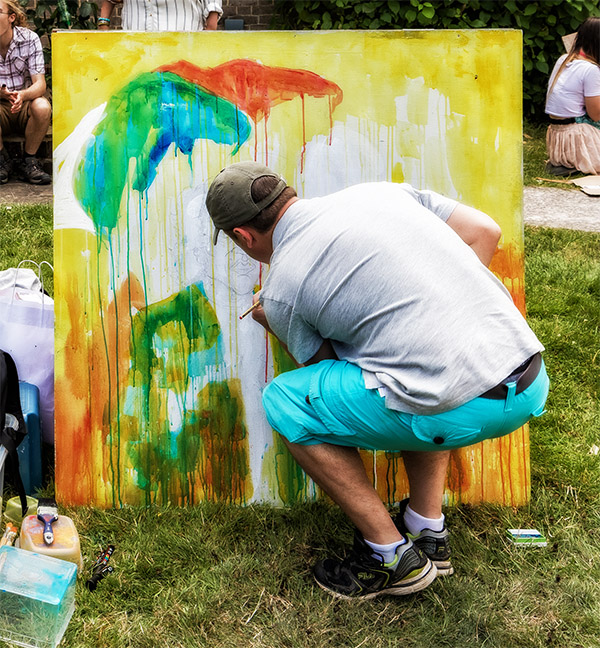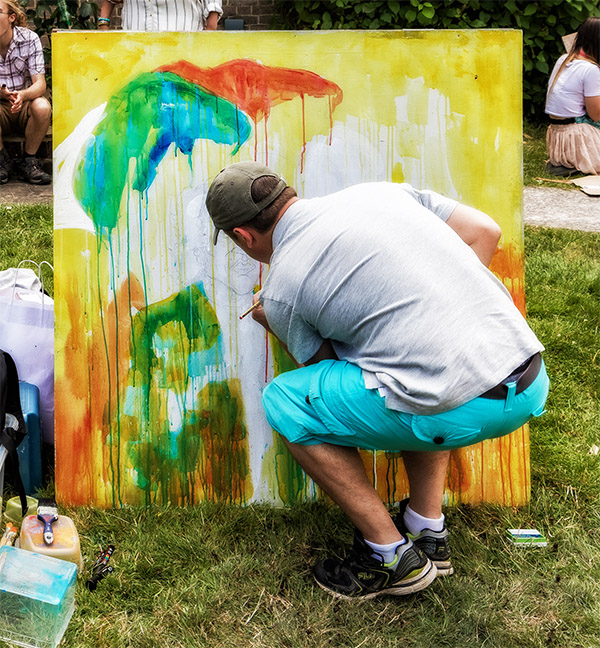 Upfest St Francis Church Artists
Bizzy
A stencil painter from Upfest host city Bristol, Bizzy's favourite subjects are portraits and women.
Caiacoma
A 20-year-old artist from Luxembourg who 'mixes abstract and figurative with words and colours'.
CSPR aka Casper Hildebrant
A new up and coming artist from the US Midwest who focuses on original pieces and showing his work.
Dan Pritchard
Dan is a Bristol based caricature artist who finds his inspiration in the British daily grind and 80's & 90's TV and film.
Dunks
Dunks's work follows a neo-modernist theme created from unique textures, shapes and letterforms.
Elaine Carr
Elaine's work is mainly based on architecture and created using brushes and ink pens.
FGB (Francois Got Buffed)
"I am an artist, illustrator, sticker addict, street doodler mostly working in mixed media paste-ups and stickers."
FGB comes from Belfast and creates playful fun characters.
Hel Harper
Hel Harper mainly works with blacks, greys and charcoal to create portraiture, flora and fauna scenes inspired by nature and music.
Julie Gough
Art teacher and graphic designer Julie Gough illustrates women who have made significant contributions to history.
Kendo Nagasaki
Kendo Nagasaki creates highly detailed works using stencils on canvas, wood and metal.
Lauren Maria Hill
Lauren Maria Hill is a portraiture artist who mainly creates her works using oils on layered backgrounds working from her photography or other photographers photos.
Lovelylisaj
Another Bristol based artist who creates colourful, humorous works inspired by beauty, popular culture, and power.
Mary Rouncefield
Mary Rouncefields art focuses on human rights, her work has been featured in various galleries, Mary uses her art to raise money for various refugee charities, she is also a member of 'Art For Peace' whose mission is 'To use the arts and intercultural learning in order to inspire a culture of peace and hope and educate for non-violent alternatives to create a sustainable, equitable, and harmonious earth society'
Mondo Johnson
Mondo is an experienced stencil artist who combines imagery and textures with screen printing to create 'visual mashups'
Mr Bear
Mr Bear is a local artist who makes slot of stencil and canvas works
Mr Hope
Mr Hope practised graffiti for over a decade before turning to stencil work.
Neverender Design
Neverender Design became a stencil artist after being inspired by Upfest a few years back.
Oink!
Oink is a former butcher turned cartoon artist who loves to create pork related work.
Omini
Omini was an oil painter from Cardiff who became a stencil street artist after moving to Bristol and being inspired by the local art scene.
Phill Newton
Phill Newton from Sheffield creates unique street art pieces based on expressionism and pop art.
Samantha Bond
Samantha has two styles bright and colourful contorted layers or smooth blending and angular lines based on geometry and futuristic concepts; all her works are painted with oils.
Sonnet
Sonnet is a poet who visualises poetry through artwork; Sonnet is inspired by The Renaissance and romantic movements.
Sophie Long Art
Sophie is an artist from Bristol who mainly creates animal portraits from acrylics which push the boundaries of expressive art.
SOS Stencil
SOS Stencil hails from St Maurice, Switzerland he started out with self-portraits before moving onto stencil work.
Stina Jones
Stina Jones is a character imagery artist from Manchester.
Swilfa
Swilfa is a London based artist who creates uses old vinyl records, LED lights, and acrylic paints to create his unique artwork.
What Have I Done Now
What Have I Done Now is a political artist who 'responds to the machinery of control as it grinds us up in all it's gears'
23magpies
23magpies raises awareness about animal welfare and environmentalism with her unique animal street works.
Ze.n1e
Ze.n1e came all the way from Melbourne, Australia and was a finalist for The Stencil Art Prize 2015.