Touch Marker Pens are purpose made pens for detailing work. The range of pens is filled with alcohol-based ink that flows lovely.
Popular with both hobbyists and professionals alike, Touch Pens are available with a brush, chisel or fine nibs, providing a selection of line thicknesses.
Click Here For Touch Markers Prices & Availability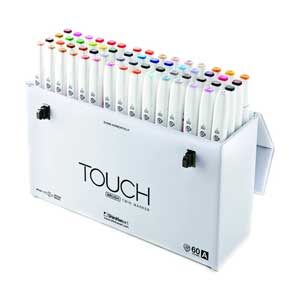 Touch Twin Marker
The touch twin marker has two tips, a fine nib and a chisel tip for broader strokes. The variable line thicknesses from a single pen make this a good all-around pen for various artwork forms, from doodling to serious architectural drawings.
The ink is odourless and won't bleed or smudge. The pen is ergonomically designed to sit in the fingers without slipping and can be refilled. Replacement tips are also available
200+ Colours to choose from
Touch Twin Brush Marker
The Touch Twin Brush is similar to the Twin Marker above but features a brush tip (instead of fine) and a medium width chisel tip. The brush tip feels like a real paintbrush.
The same clean, free-flowing ink in over 200 colours and the great ergonomics.
Refillable and the tips can be replaced.
Touch Colourless Blender
Use the touch blender to create gradients in conjunction with your Touch Pens. Also useful for the lightening of Touch inks.
Touch Replacement Nibs
Touch Replacement Nibs are available in fine, brush, chisel and medium chisel.
Touch Refill Inks
Permanent ink refills for your Touch pens. The ink will also work well in any empty marker of your choice. You can create drippy tags by applying the ink straight from the dropper bottle.