Polyurethane Spray for adding clear coat protection to your spray painted work and DIY projects. Once dry, the Polyurethane is a water-resistant scratch-resistant coating that'll preserve your spray work for a long time.
Polyurethane Varnish Spray is ideal for protecting spray-painted wood, especially wooden furniture.  Some spray varnishes can also be used on other materials such as metal or plastic (double-check spray-can instructions first)
Fleur Polyurethane Varnish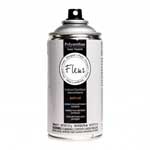 A solvent-based satin varnish provides a flexible clear coating with good UV resistance. Suitable for interior and exterior use.
300ml Spray-can
Satin Finish
Plastikote Clear Polyurethane Varnish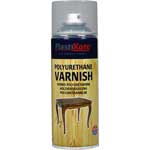 Protect your wooden sprayed surfaces from staining and scratching with Plastikote Clear Polyurethane Varnish. A non-yellowing formula that dries in an hour.
Use bare wood only.
Available in Gloss and Matt
Rustoleum Ultra Tough Polyurethane Clear Varnish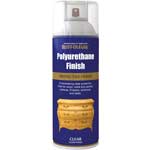 Rustoleum Polyurethane is suitable for wood and metal and lasts twice as long as standard varnish. A highly durable but flexible coating that shows off wood grain perfectly;y.
Fast drying
Available in Gloss and Matt
Interior use only
Polyurethane Spray FAQ's
How long does Polyurethane Spray Varnish Last?
Polyurethane Spray Varnish can last up to twenty years. However, after a few years, a recoat may be in order if you feel the coating looks 'tired'.
Is it better to brush or spray Polyurethane?
Spraying provides a consistent coating without brush marks. However, some practice is required to get an even coating. Practice on a spare piece of wood/metal before spraying the actual workpiece.
Can Polyurethane Spray be used outdoors?
Yes and no, it depends on the varnish formula. Some sprays are suitable for outdoor use. Some are for indoors only. Check the description and manufacturers instructions first to make sure.
Can you clean Polyurethane coatings?
Yes, you can use mild household cleaners and handwashing methods to clean Polyurethane varnish coatings. Avoid vinegar as it'll damage the coating. Always test your cleaner on a small hard to notice area first.