Permanent White Markers from a range of reputable manufacturers are filled with ink or paint for use on various surfaces, from paper to concrete.
A full range of tip sizes is available. Some of the markers are refillable.
Permanent White Ink Markers
Marsh 88-FX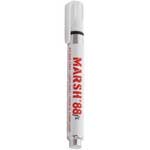 The 88-FX is filled with pigmented alcohol-based white ink that dries fast, forming a permanent and waterproof finish with good UV resistance.
The markers are twin tipped with a valve activated design. Tips are 3mm bullet and 5mm chisel.
Zig Posterman Biggie 30mm or 50mm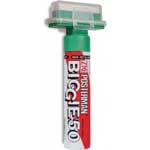 A fat marker with an extremely wide nib of 30mm or 50mm. Filled with highly opaque white waterproof ink that works on most surfaces, including glass and plastic. Use indoors and outside.
Zig Posterman PMA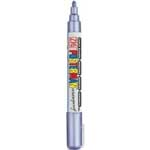 The Zig Posterman PMA range includes white permanent markers with various sized tips (see codes below for tip sizes). Filled with waterproof ink for interior and exterior use on a wide range of surfaces, including plastic, glass, canvas, metal paper, wood and stone.
PMA-20 – 1mm nib
PMA-30 – 2mm nib
PMA-50 – 6mm chisel tip
PMA-120 – 15mm nib
Zig Illumigraph
Filled with fluorescent white waterbased pigment ink suitable for chalkboards, paper glass and other materials. 15mm tip.
Edding 4000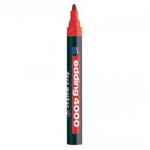 The Edding 4000 is a decorative marker suitable for crafts, decorating and writing on almost any surface. The white water-based ink's lightfast, opaque, smudge resistant and waterproof once dry.
Plastic tipped producing lines of 2-4mm.
Permanent White Paint Markers
Molotow Grafx 128PP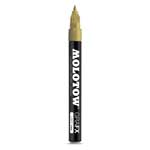 The Molotow Grafx is the perfect marker for drawing fine white lines featuring a 1mm crossover tip works in conjunction with the built-in capillary system to provide a consistent flow.
Filled with alcohol-based paint, ideal for sketching and canvas work but can be used on other surfaces.
Edding White Paint Markers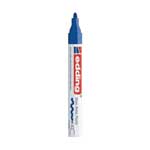 Edding white markers are filled with high pigment paint with a lacquer finish and work on most surfaces. Suitable for artwork and industrial use.
Edding Paint Markers are available in the following tip sizes.
750 – 2-4mm line
751 – 1-2mm line
780 – 0.8mm line
8700 – 5-18mm line
Sipa Flysea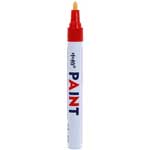 The Sipa/Flysea is filled with non-toxic, oil-based permanent white paint that'll write on any surface. A good marker for heavy-duty use. The tip writes lines of 2.2-2.8mm.
Dope Slug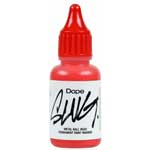 The Dope Slug marker's filled with white alcohol-based paint and features a metalhead that creates a thin line. Hard to buff paint that's suitable for all weather conditions.
On The Run Soultip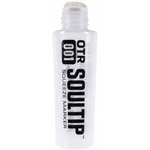 The On The Run Soultip's a squeezy marker filled with white super gloss paint. Ideal for creating drippy tags and lettering.
The OTR's are available filled or empty (so you can fill with your own permanent white paint or ink) in tip sizes.
OTR 001 – 22mm
OTR 005 – 12mm
OTR 006 – 6mm
OTR 007 – 6mm
OTR 4001 – 8mm
OTR 4201 – 8mm
Sakura Touch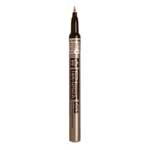 The Sakura Touch has good adhesion to most surfaces, including ceramic and rubber, filled with xylene-free, low- odour white paint. Fine 0.7mm or medium 2mm tip.
Sakura Metal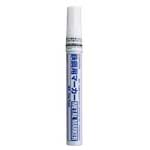 An aluminium bodied marker with an incorporated pump valve system for excellent control. Filled with fast-drying, low odour white paint that's opaque and permanent. Available with tips of 2mm or a chisel tip that can produce lines of 3 different thicknesses.
Uni Paint PX-21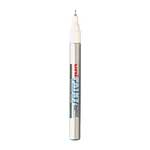 The Uni Paint markers filled with oil-based paint that'll write on most surfaces. The finish is fade-resistant and waterproof. Includes a bullet tip writing lines of 0.8-1.2mm.
Molotow One4All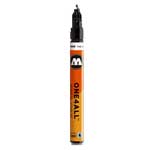 Refillable markers with interchangeable tips featuring mixing balls and the Flowmaster pump valve for controlled flow of paint. Filled with acrylic-based hybrid paint that dries fast and leaves a semi-gloss finish.
Clash Bullet & Chisel Tip Markers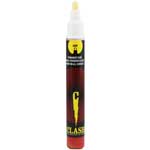 Clash markers are available with a 6mm bullet tip or a 15mm chisel tip filled with perm\anet white gloss paint that'll write on any surface.
Uni-Posca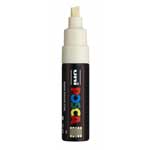 Uni-Posca Markers write on virtually any surface. Filled with white water-based opaque paint. Wide range of tip sizes available.