Here is a range of Paint Pens For Metal surfaces. In days gone by, metal was challenging to write on, but not anymore with these high-quality paint markers that are up to the job of marking metal and other hard solid surfaces.
Click Here For Paint Pens For Metal Prices & Availability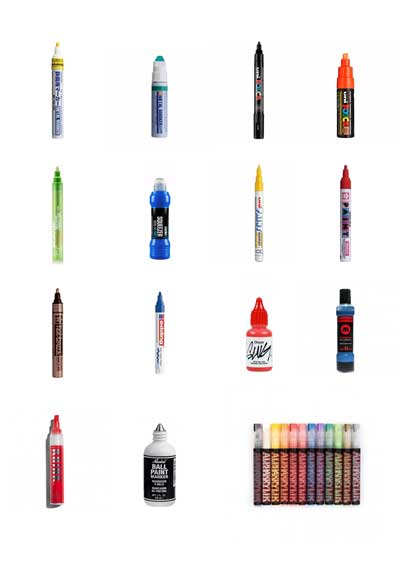 Alphakrylik
A set of 12 brightly coloured markers filled with acrylic paint that's permanent and waterproof. Alpha markers are fitted with 2mm tips.
Dope Slug
The Dope Slug is a stubby marker filled with alcohol-based paint that's weather-resistant and hard to buff. Fitted with a metal head nib and available in 7 colours.
Edding
Edding 750, 751 and 780 markers are filled with high opaque paint with a lacquer finish, ideal for metal writing. 14 colours available.
Grog Squeezer
The Grog Squeezer features a woven nib. The squeezy body allows for excellent control and is ideal for creating drippy tags. A wide range of tip sizes to choose from. Available in 20 colours.
Krink K-75
The Krink K-75 features a 7mm chisel tip and is filled with opaque alcohol-based paint. Ideal for writing on smooth metal. Available in 6 colours.
Markal Ball
A fat liquid paint marker includes a hard metal ball tip that'll produce both thin and thick lines. Available in 4 colours.
Montana Fine Acrylic Marker
A fine-tipped marker of 2mm filled with Montana water-based ink in the same colours as Montana Gold Spray Paint.
The paint is lightfast, permanent, and waterproof. The marker body incorporates an optimum flow control pump-valve system for precise writing—34 colours available.
MTN Waterbased Paint Marker
The MTN Waterbased Paint Marker is ideal for fine art metalwork and metal crafts. A range of tip sizes from 0.8-5mm. Available in 5 colours.
Sakura Metal
Sakura Metal Markers feature a pump valve system and are filled with xylene-free opaque paint. Available in tip sizes 2mm and 10mm in 6 different colours.
Uni-Posca
Uni-Posca markers are filled with waterbased paint that's pigmented and highly opaque. Brush and chisel tips available in a wide range of sizes and colours.
Uni Paint
Uni- Paint markers contain oil-based paint that's water and fade-proof. Available in different tip sizes in 10 colours.