These Neon Markers filled with bright fluorescent colours are suitable for various surfaces ranging from paper to brick.
The Neon/Fluorescent Markers are filled with luminescent paint or ink that emits light and will add a new dimension to your artwork.
Grog Neon Markers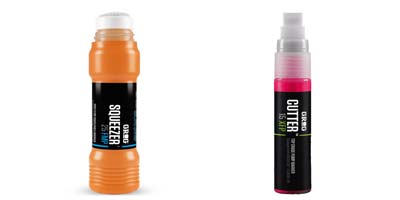 Grog offers two Neon Markers, including the 'Squeezer', a clear bodied refillable squeezy marker featuring a woven tip and the 'Cutter' fitted with a quick flow chisel tipped marker.
The Squeezer is filled with Grog Full Metal are enamel-based paint, while the Cutter is filled with extra flow alcohol-based paint. Both give a brilliant glossy finish. The squeezer is a popular outdoor marker for tagging.
Both are available in a range of tip sizes in the colours
Neon Green
Neon Fuchsia
Neon Purple
Neon Orange
Neon Yellow
On The Run Neon Markers

On The Run has four different neon markers.
The OTR Soultip are squeezy rounded tip markers available in tip sizes 6 and 12mm. The soul tip is filled with high gloss permanent paint.
The OTR paint marker is another glossy neon marker but features a synthetic chisel tip and pump-action system.
The OTR Bullet features an 8mm soft round tip and a flow control valve to regulate paint distribution.
The OTR Calligraffiti has a 20mm chisel tip that's ideal for calligraphy lettering.
OTR Markers are available in the colours
Neon Apricot
Neon Green
Neon Pastel Pink
Neon Pink
Neon Pastel Yellow
Neon Orange
Molotow One4All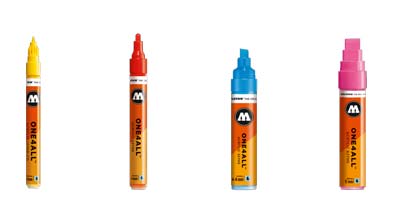 Molotow One4All Markers are filled with brilliant, highly pigmented acrylic hybrid based paint that dries with a silky matt finish.
The markers are refillable and include the Flowmaster valve system and mixing balls for correct mixing and controlled application.
The paint works on almost all sizes, and the pens include a wide range of tip sizes to choose from.
Tip Sizes Include
1mm fine
1.5mm crossover
2mm fine
4mm round
2-5 calligraphy
4mm high flow
4-8mm chisel tip
15mm broad
15mm standard
15mm high flow
20mm T Style
20mm ZigZag effect
One4All Neon Colours Include
Neon Green Fluorescent
Neon Orange Fluorescent
Neon Pink Fluorescent
Neon Yellow Fluorescent
Winsor & Newton Neon Markers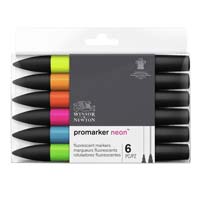 Winsor & Newton Markers provide Neon alcohol-based ink of the utmost quality. The ink is pigmented and lightfast, good for blending, streak-free and can be used on a range of materials, even solid non-porous surfaces like plastic and glass.
The pens are twin-tipped, featuring a fine bullet nib and a broad chisel tip.
Sold in a set of six markers, the colours include
Electric Pink
Glowing Green
Luminous Yellow
Radiant Orange
Spark Red
Volt Blue