MTN offers a range of varnish sprays for long-lasting protection of artwork.
The varnishes can be used on many surfaces for protection and added brightness. Different finishes are possible depending
on the number of coats, you apply to your finished work.
Click Here For MTN 94 Varnish Prices & Availability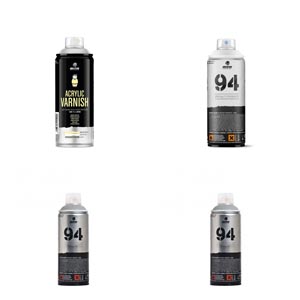 MTN 94 Synthetic varnish is available in gloss, matt and satin. The non-yellowing formula is very flexible and suitable for sealing paper, canvas wood and metal.
Sometimes you need an ultra-fast drying varnish (especially in poor winter weather) MTN Acrylic Varnish Spray dries fast thanks to the thermoplastic resin on a solvent base. Suitable for use on most surfaces.
MTN Frame Varnish Spray's designed for oils and acrylics on canvas. Great for protecting your artwork from dust and humidity.
MTN Matt Fixer Spray's a specialist varnish for charcoal and pastel drawings on paper.
All MTN varnishes have the following features
Quick Drying
Optimal hardness
Good adhesion
High elasticity
Excellent durability
Easy application
High water resistance
Non-yellowing
UV Resistant