When coating metal surfaces, it's important you pick the correct Metal Spray Paint for the job at hand.
Below is a range of spray cans that'll work on metal surfaces, whether your spraying metal artwork, garden furniture, ironmongery, bikes or any other DIY project you may be undertaking involving metal.
Hammerite Direct To Rust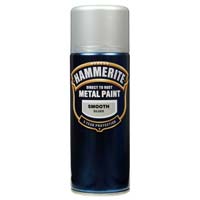 Possibly the most hardcore DIY spray paint in existence, you can spray Hammerite directly on top of rusting metal it'll prime, the metal undercoat and topcoat all at once.
The finish is smooth and is ready for another coat after around 15 minutes.
Kobra HP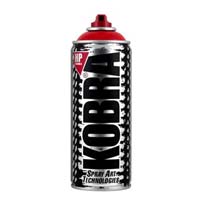 Kobra HP is a solid content Spray paint that works on any surface, including metal. Kobra HP is an all-season acrylic based paint that you can spray in hot and cold weather without worrying about dripping.
The spray can feature a soft valve system and delivers the paint at high pressure.
Montana Gold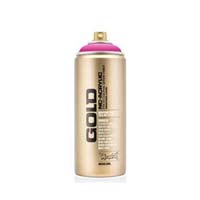 Montana Gold is a renowned nitro-combi acrylic lacquer that's ideal for metal surfaces. The low-pressure spray can and the fitted gold-stock cap provides excellent control.
Semi-gloss finish
200+ colours
Montana Metallic Effect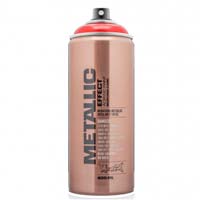 Add a metallic effect to your metal with this mid-pressure spray can from Montana. Acrylic nitro combi base with a semi-gloss finish. Very hard-wearing after 24 hours drying time.
Standard cap
Rustoleum Quick Colour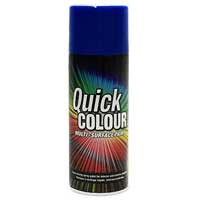 Rustoleum Quick Colour is a spray enamel paint with an oil base that dries to an extremely tough finish. Use a primer spray when spraying onto bare metal.
Spray.Bike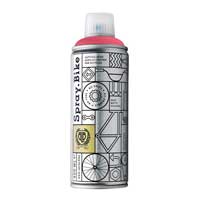 Spray.Bike is an innovative dry matt powder coating in a spray can for amateur and professional bike restoration.
The spray cans are suitable for a range of other metal and aluminium applications also. The paint's very easy to apply and goes on without dripping.
A high pigment acrylic compound that doesn't require priming. The finish is highly UV and weather resistant.
Metal Spray Paint FAQ
What's the best spray paint for metal?
The best spray paint for metal depends on the type of metal you're spraying on, the finish you desire and the day to day use of the object you're spraying.
Hammerite Direct To Rust is perfect for spraying on rusty metal
Kobra HP is the best matt spray paint for all-season use indoors and out
Montana Gold is the best all-weather metal spray with a semi-gloss finish
Rustoleum Quick Colour is the best metal spray paint for durability and toughness
Spray.Bike is the best spray paint for metal and aluminium bike, coating restoration and repairs
Do you need a primer to spray metal?
It depends on the surface you're spraying on and the spray paint you're using. Some spray-cans are an all in one primer and paint. These sorts of spray paints don't need priming.
You will need a primer if you're spraying on bare metal. Always refer to the instructions on the side of the spray can for clarification, and remember primed metal will always paint better than unprimed metal.
Do you need an undercoat for painting on pre-painted metal?
If you're spraying on top of a piece of pre-painted metal, then an undercoat is advisable as it'll create a white, flat surface for your topcoat to go on to. The white undercoat will stop the new colour from being affected by the old pre-existing paint colour. If you're spraying on top of existing paint, then you won't need a primer.
Do you need to topcoat spray-painted metal?
If your spray painted metal's going to be exposed to the outdoor elements, then yes, a topcoat spray varnish is recommended as it'll add a waterproof layer and protect against scuffing and abrasion. Some metal spray paints don't need top coating. Refer to the manufacturer's instructions.
If the metal you're spraying is staying indoors and won't be handled much, then you can get away without using a topcoat.
What metal spray paint colours are the most popular?
Metal spray paint is available in hundreds of different colours in gloss, matt and satin finishes, the most popular colours are black and white 
For The Best Results
Ensure the metal surface is clean and free from grease and dirt
Use a metal primer spray when spraying on bare metal
Use an undercoat when spraying on top of existing paint
Spray in a well-ventilated area
Read the manufacturers instructions before spraying commences