Gold Leafing Pens produce thick and saturated metallic lines that look similar to gold plated metal. A common item in the crafter's toolbox and suitable for many art applications.
Gold Leafing Pens are made by
(Please follow links to view markers)
Krylon Gold Leafing Pen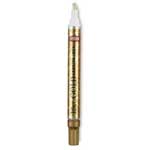 Krylon's Gold Leafing Pen is the go-to pen if you want to create a realistic metallic gold look. The pen is chisel tipped, which allows the drawing of both thick and thin lines. Filled with gold acrylic lacquer.
Uni PX-30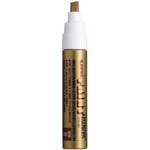 The Uni PX-30 is filled with Gold oil paint and will work on a wide variety of materials. The paint leaves a glossy gold finish which is fade and waterproof. Available in four tip sizes, extra-fine, fine, medium and broad tipped.
Rustoleum Metallic Gold Leafing Pen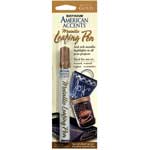 Rustoleum's metallic gold leafing pen works on most surfaces, including glass, ceramics and metal. Supplied with a chisel tip for producing narrow to broad lines.
Liquitex Gold Paint Marker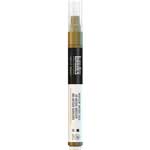 A fine-tipped pen that draws lines of 2-4mm. The pens loaded with Liquitex iridescent antique gold paint, which is permanent and lightfast with a low odour, so it is ideal for using indoors.