Glow In The Dark Spray Paint will make any surface in a dark environment glow. Apply glow paint to any surface inside or outdoors.
For indoor surfaces, the paints activated with lights as soon as it's switched off, the surface will emit a satisfying Glow.
Outdoor surfaces coated with Glow dark spray paint are activated by the sun. As soon as the sun goes down, the surface will illuminate. For the best results, spray on areas unlit by street lights.
Montana Night Glow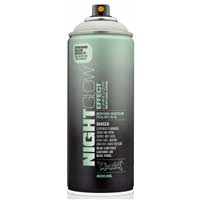 A premium acrylic spray paint loaded with luminescent pigments that store light and release when dark creating a lovely glow.
Suitable for inside and out on all surfaces. Gloss varnishing will improve the longevity of the finish.
Montana UV Effect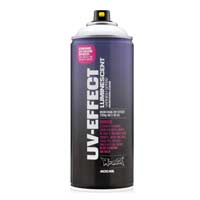 Montana UV Effect is an invisible finish that only appears under UV light-emitting an attractive blue glow.
Indoor spray paint suitable for various art, sign and marketing applications.
MTN Luminous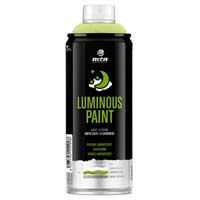 MTN Luminous is fast charging Photoluminescent acrylic spray paint with excellent adhesion and long-lasting luminance. Easy to apply to most surfaces and to recoat.
400ml Spray-can
Fat Drying
Rustoleum Glow In The Dark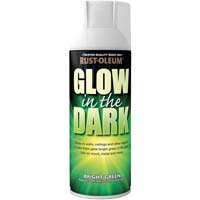 Rustoleum Glow In The Dark Spray Paint will emit light for 4-8 hours. The paint can be sprayed onto most surfaces, leaving an off white finish, glowing in the dark when light is absent.
Touch dry in 20 minutes
Complete dry in 24 hours
Krylon Glowz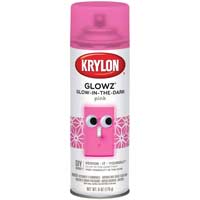 Krylon Glowz is charged by light providing high visibility in the dark. Unlike other Glow In The Dark Spray Paints, Glowz is available in a range of colours.
Colours include Green, Pink and White
Touch dry in 15 minutes
Handle Dry in 1 hour
How Long Does Glow In The Dark Spray Paint Glow For?
As long as the paints been sufficiently charged, the paint will glow for up to 8 hours. The time will vary depending on the paint used, the surface sprayed on, the charging light and charging duration.
How Do You Charge Glow In The Dark Spray Paint?
Leaving your item or wall exposed to direct sunlight for 3-4 hours will sufficiently charge your glow in the dark paint. Alternatively, you can use a strong light or torch, shine directly on the surface for a few minutes.
How Do I Get The Best Results From My Glow In The Dark Spray Paint?
For the best results, undercoat the surface first with a gloss white spray primer. The best glow is achieved on a smooth white surface.
Can You Topcoat Glow In The Dark Spray Paint?
Yes, certainly, the clear top coating will make your glow in the dark spray paint last longer, preserving the finish.
Click Here For Glow In The Dark Spray Paint Prices & Availability