Glow In The Dark Pens allows you to invisibly mark any surface, charge with light and emit a satisfying glow in the darkness.
Glow In The Dark Markers are useful for marking outdoor evening events and nightclubs and various art and craft applications.
Sakura Solid Glow
The ultimate and most versatile glow in the dark pen. A solidified marker made from photoluminescent pigments. The pen will write on all surfaces rough, smooth, wet and even oily.
Write and charge with sunlight, lamp or torch.
The finish will glow up to 30 minutes with each charge. The glow time depends on paint thickness, length and intensity of the charge.
The pen is made from safety grade pigment materials.
Glowstars Pen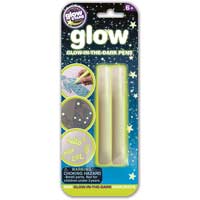 The ideal glow in the dark pen for paper. The pens are squeezable, allowing accurate control. Write or draw on paper, hang it on your wall, charge with light and watch it glow when the lights are switched off.
2x10ml pens are supplied per pack
Marvey Deco Glow Fabric Marker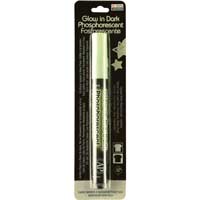 The Marvey Deco Glow Fabric Marker writes perfectly onto clothes and fabrics. Once charged with light, the written fabrics will glow.
This non-toxic glow pen is ideal for Halloween costumes. Apply to clean fabrics and heat seal with iron for best results.