Flame Paint is an Acrylic based range made in Europe for the Urban Artist. Matt finish paint with 108 colours to choose from in high or low-pressure 400ml cans.
Transparent spray paint and neon colours are also available.
Click Here For Flame Paint Colours, Prices, Buying Options & Availability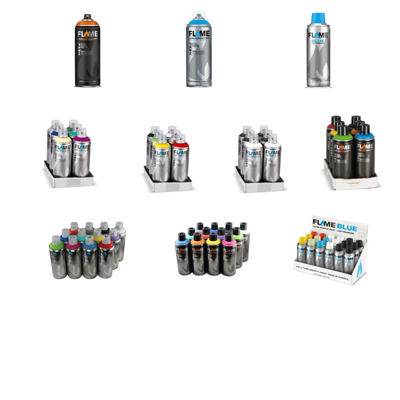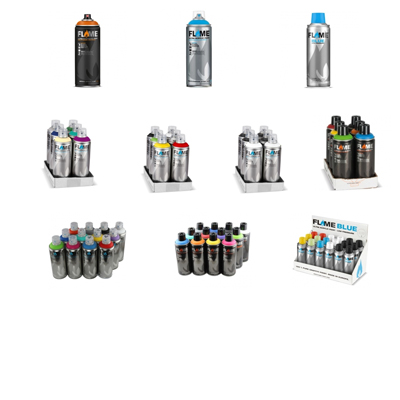 Flame Orange
Flame Orange is a low odour Acrylic with a high output that ensures a fast application that is suitable for most surfaces.
The paint gives a Matt finish with brilliant opacity and UV resistance, supplied with a Flame stencil lid.
Available in 120 colours
400ml cans, try out packs and bulk packs available
Compatible with Flame Blue
Flame Blue
Flame Blue is another Acrylic-based low odour paint with a precision low-pressure application suitable for most surfaces. Matt finish with brilliant opacity and UV resistance.
Available 400ml cans and 120 colours (6 colours also available in 200ml)
Supplied with Flame stencil lid
Available in single cans, three different tryout packs, 200ml x 18 colours packs, and bulk 12 packs
Flame Transparent
A precise application, acrylic transparent paint that works well in conjunction with flame orange or blue cans. All-season and surface use. Available in transparent black or white.
Flame Neon
Acrylic matt paint in four fluorescent colours which include yellow, orange, pink and green. Supplied in a low-pressure 400ml can.
Click Here For Flame Paint Colours, Prices, Buying Options & Availability