Fat Caps were invented by graffiti artists around half a century ago to produce extra thick lines and cover large areas quickly.
Here are the best Fat caps on the UK market. Choose a fat cap, fit to the spray-can of choice and get to work.
Click Here For Fat Cap Prices, Buying Options & Availability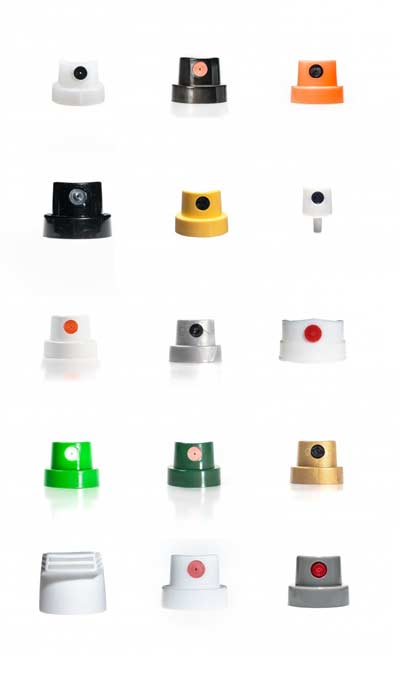 Fat Caps Include
MTN Astro Fat – White with black dot.
MTN Hardcore – 6cm width (larger possible) optimised flow. Orange with black dot.
MTN Pink Dot – White cap with a pink dot, sprays large lines.
MTN NY Fat – Ideal for filling and tagging. White with a black dot.
Molotow Super Fat – Black with pink dot
Kobra Monster Fat – Extremely versatile spray lines from thin up to 15cm wide. Black cap and dot.
Kobra Yellow Fat – Compatible with all female cans. Yellow with black dot
Montana Orange Dot Fat – A quiet but fast fat cap fills areas quickly. White with an orange dot.
Montana Fat Silver Cap – A silver cap with a black dot great for filling and fading techniques.
Montana Fat Gold Cap – Gold with black dot fills large areas quickly.
Montana Level 5 – Sprays lines of 4-15cm adjust the distance to increase/decrease thickness. Green with a white dot.
Montana Level 6 – Produces ultra-wide lines of 5-25cm. Spray close for thin lines further away for fatter lines—dark green with a pink dot.
CMC Jiffy – A classic cap replicating the legendary Jifoam oven cleaner cap popular with artists in days gone by.
Super Boost – An ultra-wide cap for calligraphy work. Use on 600ml cans only.
AKA Colours Grey Fat – Good for fills and big strokes. Grey with a red dot.
Click Here For Fat Cap Prices, Buying Options & Availability