The Copic Ciao Marker offers many of the same features as the more expensive Copic markers but at a lower price. Making the Ciao a brilliant marker for entry to intermediate level artists.
Ciao markers are twin-tipped, supplied with a brush tip and a medium chisel tip. The tips can be interchanged with other Copic nibs (there are 8 other types of replacement nibs available)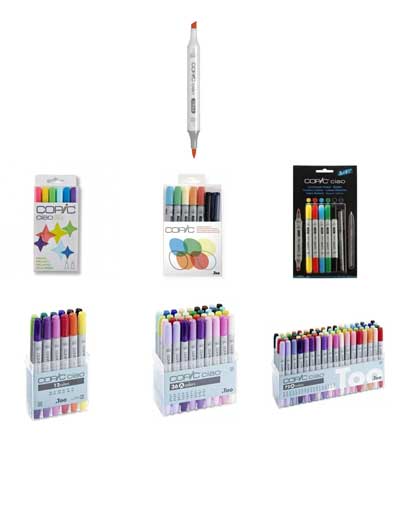 The Ciao is filled with the legendary Copic Ink, a thin, low odour alcohol-based formula that maintains consistency throughout, doesn't bleed through paper and doesn't smudge.
The marker is refillable, buy a Copic refill bottle, and it'll refill your Ciao 13 times. The Ciao has a round body with a child-safe lid featuring air holes.
Available individually or in sets of 6, 12, 24, 36 and 72. with a choice of 180 colours.
Ciao Marker Sets
Ciao Marker Sets include
Brights
Blending Sets
Doodle
Grey Tones
Hair
Hue
Jewel
Love
Manga x8
Pastels
Primary
Sea
School Uniform
Standard
Skin Tones
Vampire
Warm Grey Tones
Witch