Copic Brush Markers for amateurs and professionals alike.
There are two Brush Markers offered by Copic the Ciao and The Sketch Marker. Both are filled with high-quality alcohol ink that remains consistent and doesn't bleed or smudge.
The Ciao marker is a better choice for the beginner and amateur artist, while the Sketch marker is the best option for the more serious artist or professional.
Interchangeable Tips
Both the Sketch and Ciao markers include the super brush tip and a medium chisel tip. The tips are interchangeable on both markers allowing the use of other Copic tips if desired.
Sketch Brush Marker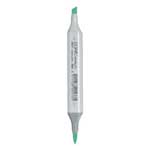 The Sketch holds more ink than the Ciao, so it needs refilling less. The body is oval-shaped, so it doesn't roll. No more picking up that have rolled onto the floor.
There's a huge range of colours to choose from, with 358 in total.
The Sketch Marker is available individually and in sets of 3, 6, 12, 24, 36, 72 and 358
Ciao Brush Marker
The Ciao has the same tips and is cheaper than the Sketch marker. The body holds less ink and can roll off your desk as it's rounded. The Ciao is a better choice for children as there are safety air holes built into the lid.
The Ciao is available in 180 colours in singles and sets of 6, 12, 24, 36
Sketch Or Ciao?
Both are solid and reliable brush marker pens filled with the same high-quality ink and boasting the same tips. While the Sketch offers more than the Ciao, the choice will likely come down to price and how regularly you'll use your markers. If you go for the Ciao, you'll probably like it so much you'll want to try the Sketch marker.